"My parents are Greek-Cypriots. Mum arrived in Australia in 1955, and Dad a year after. Dad's brother had emigrated to Australia in 1952 to scope around, and the rest of the family all followed. Dad is one of six siblings, and Mum is one of five. Mum and Dad met and were married here in 1965. A year earlier, my paternal grandfather passed away. Grandma had six children with her and lived as a widow with my newly-wed parents.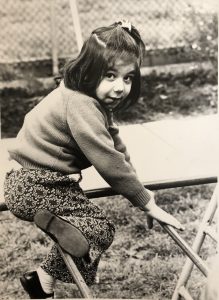 Grandma lived with all her grandchildren all throughout the year and was pretty much in our lives every day. Between all the siblings across both sides, we are now nearly 40 grandchildren and 60 great-grand children.
Mum's family resided in Fitzroy, in a house that has since been demolished, to make way for what is now St Vincent's Hospital. Dad was an integral part of the St Andrew's Greek Orthodox Church in Sunshine West; the team basically built and ran the church.
I was born in Sunshine Hospital, and am a Westie through and through. My two sisters and brother were born there as well. I came to Williamstown when I was eight, as Mum wanted to be nearer to my grandparents. Her mum is now 98. Most of my family is here.
One word while growing up: Family. We are over 20 first cousins on Dad's side, and 17 first cousins on Mum's side.
Before moving to Williamstown, most of us lived along Coronation Street in Sunshine. The men were always working, so our support network were the women – my aunties. We had family picnics on weekends, birthdays, name days; basically any excuse to sit around food! My childhood was a celebration. It still is now. We are very blessed with everything we have.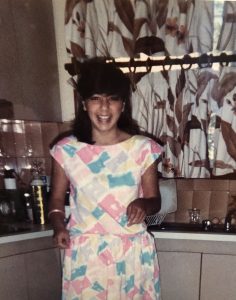 All our kids see each other's kids now. Our family had taught us the importance of family values, and our cousins are our friends. I treasure them daily. The family connections are carried to our adult lives, and our kids do the same.
Even as a kid, I was never encouraged to play sports. It wasn't a thing as a Greek. I did play the piano accordion for eight years. Dad loved parading me, and we'd play a few tunes, my grandfather would sing along as the family were watching me. My cousins always made fun of me, but Dad thought it was a proud moment. Music was my outlet.
As a young teenager, I loved going to work on Saturday's with my Dad. He was a builder and between my sisters, one of us would get the chance to go onsite for the day with Dad. He started building in Eltham before working locally. We'd leave early in the morning and work till dark. He built the very first dual occupancy homes in Williamstown.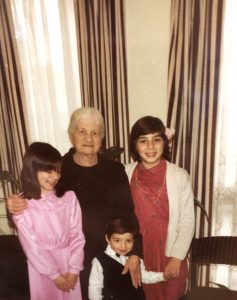 In high school, I didn't do any extra curriculum activities. Greek School was our thing. I went to Greek School for 12 years, and I took Greek as a Year 12 subject. I'd always said I'd never send my kids to Greek School, but I have. The systems have changed; Greek School was horrible back then. Now, my daughter looks forward to it. She even does cartwheels there!
If we lose our culture, our kids will never know about it. I've written two books, both made and purchased within the family. The first one is about Greek Easter, and the second is a family cookbook, based on the history of our family. It's sentimental and has photos and commentaries about the family.
I'm working on my third book. It delves further into the history of our grandparents, and it's about food, and how it brings us together.
After Year 12, I went to Victoria University, pursuing teaching. However, all my cousins were working and earning money as they hadn't pursued the uni route, so I did the same and walked away from uni. I was temping here and there, just floating around, but making just enough money. I was still living with my parents then, and I wasn't allowed to go out. Work was my outlet. I didn't have a social life, as my parents were very strict and protective. I had to be home by 10pm.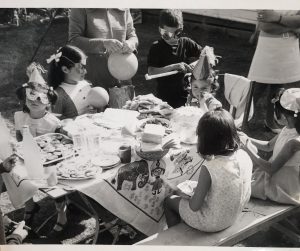 Working also meant I began to grow my second community with my colleagues. I made some great friends, and many have stayed in touch with me since.
At the age of 21, I was a few years into my permanent job. I went to a friend's birthday party, and her brother Theo was there. I'd always had a crush on him, and I ended up marrying him. I married my first boyfriend. The relationship fizzled out after three years of being married, but it wasn't until then when I found myself. I realised I didn't belong to Dad, nor to Theo. I belonged to myself.
By the time the divorce came through, I was 27. Things started to look up then. I had a social life and started working part-time at Jolly Rogers Takeaway along Melbourne Road. It was the first of its type in Melbourne, and it was so busy we'd have up to seven people deep at the counter.
I'd work there three nights a week and was excited about life. I pursued a Personal Training course, more so for the social aspect, and less for the money. I love being around people. I felt I had been sheltered for a long time, and when I'm surrounded by good people all day, the balance is always there. I thought, 'My family is still dear to me, I haven't lost them, and I've got friends as well!'
I saved up all the money and went for my first holiday ever. Until then, my first trip on a plane was for my honeymoon in Queensland. My first trip overseas was a Contiki tour. Dad asked why don't I go to Cyprus. He even offered to pay for the holiday. I had grown up hearing about his stories from home and decided to stay for a week. However, it wasn't until I got there, did I realise for the time time, what Dad's stories really meant.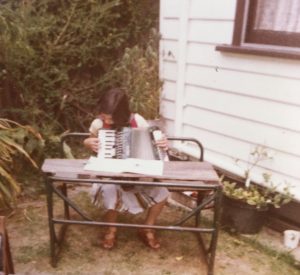 Dad is from the north of Cyprus. In 1974, that area was invaded by the Turkish. For many years, the green line prevented us from crossing to the North side. I remember standing atop a scaffolding with my aunty and seeing the Turkish flags across the void, and next to where I'm standing, a Cypriot flag. I feel like I shared his sentiment here. Dad was rapt that I went. The trip to Cyprus was the best thing I did.
I married my husband Marc in 2009. Marc owned a personal training studio in Williamstown called Turning Point then, and I was a client of his. Marc's wife was running the place, and due to my personal training background, was offered a job there as well. Marc already had a boy named Jack, and I'd always babysat Jack.
In 2003, after a temporary break from work in Queensland, I returned to Melbourne to find out Marc and his wife have separated. We started hanging out as friends, while still seeing Jack. I even attempted to set Marc up with one of my friends. Long story short, we hooked up.
In 2010, we had Nicola. I was 41.
After my divorce to Theo, I'd accepted I would never have a family. However, when I took Jack in as a stepson, I felt a nurturing and fulfilling mothering role stirring within me. When Nicola came around, I just couldn't believe it. My Chinese doctor had previously told me, I couldn't be pregnant unless I consumed some herbs he'd prescribed to me. I took the prescription, and a few months later I was pregnant.
Everything changed with Nicola. I now have a stepson and a daughter. Jack had always adored me, and I'd always treated him like my son. I was working in Williamstown then in Project Management. By that point, I really wanted to be a Mum. It was a no brainer to leave my well-paying job.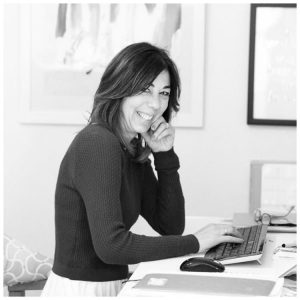 I left to work in Marc's business, in a more flexible role focusing on admin duties. I was doing the social media for Marc's business, and people were asking him 'Who's doing your social media?' It was only natural for me to post, as I've always had a love for writing.
Over time, people began recommending others to me for help. I have done a lot of unpaid work, and was booking myself into workshops, and learning along the way. Social media is not rocket science.
I say to people, you need to grow your audience, and you need to convey the message. Imagine you're a new family coming into a new school community. You want to reach out to parents and say hi. Not everybody is going to be your friend. You cannot be friends with everybody, so let other people reach out to them. However, if you go into a new community and don't talk to people, no one is going to know about you.
You naturally become drawn to the parent whom you have a common interest in. In a schoolyard, you choose which parent to hang out with. This is how I explain to my clients that it's important not be anyone to everyone but instead reach out to your people.
If I looked back at everyone whom I've worked with, it's either through someone or was a recommendation from a friend. I prefer it that way. I don't even spruik it on my page.
It's important to have no filters in life, and I adopt the same approach for social media. Keeping it real. I'm a dag, very plain! I don't want to lose myself for the sake of running a business.
My goals for 2019 are to enjoy what I'm doing. If I have that, I'm able to put everything I've got into it. If I'm too busy, I don't want to cut corners for my clients. It's important to be happy. When you're happy and healthy, everything else comes together. We're blessed with good values and good kids. What more do I want?
While I continue to enjoy my work, I want to continue to be a Mum.  I want to help at Mother's Day stalls. I want to go to school excursions. I want to be there as a Mum, in my family's lives."