"My great-great-grandfather is of Chinese descent, from Taishan, Guangdong and arrived in the Ballarat Goldfields in the 1800s. He married an Englishwoman. His name was Yee Quock Ping (later Henry Quock Ping). He practised Chinese medicine and was respected and well-known among the Chinese and Europeans. They had a son.
Henry passed away early from pneumonia, and his wife anglicized her name to Pinge and remarried an Anglo-Saxon eleven years after Henry's death but they didn't bother about the half-Chinese son. The son eventually found work as a French polisher with the Victorian Railways.
My dad Ian was the first one to be interested in the family tree. Ian went to school and one time kids called him 'Chinese', and he asked my grandmother 'Why are people calling me Chinese?' My Grandmother curtly replied, 'Oh there's supposed to be something somewhere.' The matter was never discussed again.
As Ian got older, he became good friends with someone who was into genealogy, and he started piecing it together. Dad and my mum Madge, went to China and travelled around the home area, but it was a bit of a needle in a haystack, and they didn't really find any clues to tracking down the family. Ian has recently met another guy who also loves researching Chinese family history, and they're working on a few clues at the moment.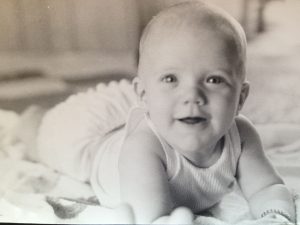 I grew up in North Croydon until I was ten. Mum and Dad were both teachers and decided to have a tree change. They bought a small motel in Bendigo, and ran it for two years, before selling it and buying a bigger one. They sold just before the recession in the '80s.
I don't remember so much in North Croydon, but I remember loving basketball and netball in Bendigo. I played the saxophone too, but not anymore. I had a regular childhood. Mum and Dad were always at the motel, and I would help out. I remember helping serve customers at the age of 11.
I am the youngest of three and have two older brothers. Most times, it felt like I was the only child, due to the age gap, and I hung around adults a lot. I would earn pocket money at the motel, filling up minibars and doing little jobs around it.
Dad had originally been a carpenter before he became a teacher and then a university lecturer. He changed careers a lot. I feel like I've done the same. I've got this thing in my head that says 'I don't have to do one thing in my life. I can always explore options. There are plenty of options to the conventional 9-to-5. I can choose.'
At Uni, I studied Sports Science, but upon graduation, I didn't want to be a gym instructor. One of my older brothers was a pharmaceutical sales rep then. I always saw him in a really nice car, he wore nice clothes and went on great conferences. They were very superficial reasons for getting into it, but I did it for almost three years. I found it to be a lonely job, and I didn't really enjoy it. You're dealing with busy doctors who didn't have time to talk to you.
My job did expose me to amazing events, and I thought it would be cool to get into event management. I thought I'd start doing some work experience. Somehow, I was lucky enough to find a job organizing the Herald Sun Cycling Tour through a friend of a friend. I did that for two years and loved it.
In 2005, I was already in my late 20's then, I felt that I should be settling down and buying a house. However, I thought 'Nah, let's go travelling.'
I've always wanted to learn Spanish, so I headed off to South America. When I first arrived, my cycling connections set me up to stay with their family in the city of Peñaflor in Chile. I travelled with the professional cycling teams on a tour around Southern Chile and was forced to learn Spanish as no one spoke English. I was really lucky to meet so many amazing people and they kept inviting me to visit them in their home towns, so I had a great insight into life in Chile. I spent a total of six months in South America, across Chile, Bolivia, Peru and Ecuador.
Another thing I wanted to do was spend a ski season in Canada. I got to Whistler, and found a job in a cocktail bar and skied often. Whistler is the most fun place you could imagine; it's like Winter Wonderland.
After that, I found work on a luxury motor yacht. There are a lot of boat agencies in Fort Lauderdale, Florida, where you can find out what boats are there, and what jobs you can get. I was on a boat called MV Superman. It was owned by a Canadian steel magnate, which travelled up to New England in the US. I didn't enjoy the job there, as I had to be subservient. After a chat with my family, I decided to return to Melbourne in 2006. I was 31.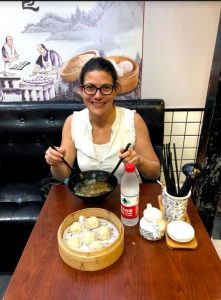 I got back to my home in Balaclava and somehow fell into advertising. One day, I was playing soccer with a group of ladies, and one of the girls asked what I was doing. I was a PA at a temp job at the time but had thought that advertising could be a good job to get into. She told me her husband was a director at Clemenger BBDO. It's one of Australasia's most successful advertising agencies. Amazingly, I scored the interview and got a job as an account manager.
I met my husband Steve through mutual friends from Bendigo. He's a year younger, but I knew a lot of his friends. He had lived with a lot of my best friends in London, but our paths had never crossed. Later on, we found out we were just 500m apart from each other in Balaclava.
How did we start dating? In 2009, I was looking for a date on RSVP. My date had come around to pick me up on a motorbike, but the helmet was too small for me. We walked around the corner to this restaurant in Balaclava, and we saw Steve and his friends. Steve hung around and talked to me while I was on the date. Things just happened from there. So yes, I can say Steve and me met through an internet date!
In 2012, a few friends who were living in Seddon then told us about the inner west. They took us around the area and sold it to us. By the end of 2012, we had bought into Yarraville. Our daughter Kayla was born just after we moved in.
The two-bedroom townhouse was perfect for us. While I was on my maternity leave, I realized nappy-free playtime was really annoying. The maternal and child health nurse always told us that nappy-free playtime was great for development, as well as sensory play. I'd put a disposable change mat down with a blanket on top, but it was always messy. In my mind, I thought 'There must be an easier way to have a waterproof playmat'. There was nothing like it then. A little idea festered in my head.
One day, after meditation, I had an epiphany. The steps it took to commit to the idea, especially the fear, held me back. The meditation instructor, however, had presented me with an angel card. It said 'It is a brilliant idea. Go forth and the universe will support you.'
By this time I already had my second child Ethan. I was juggling motherhood and a part-time job. In the early days, I went into Spotlight to find the right fabrics to make a prototype. I can't really sew that well, so I'm not sure why I thought I could make a quilt! It turned out to be a lot harder to find the right fabrics to make it waterproof, but with a lot of research, I got there in the end.
I took the idea to manufacturers in China and got a prototype done. The first sample was amazing, but somehow it took another two years to bring my idea to life.
On 20th May 2018, Rudie Nudie was launched. I sell them online and have 35 retail stores nationwide who stock it, including a distributor in United Arab Emirates.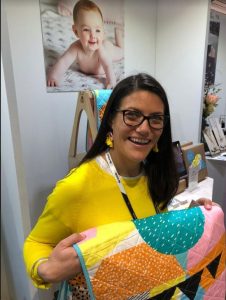 Why Rudie Nudie? Our kids have always loved running around without clothes on. It's a cute little saying 'Rudie nudie running around the house', and there's also a similarly-titled book as well. I thought it's a cute name, and it stuck.
In 2017, I did an online course at The Digital Picnic and did a custom strategy session with them. I was so pumped when I came out after sitting down with the owner Cherie. She's seriously incredible with her knowledge of social media marketing, and she showed me the possibilities of what can be done. I used to work for Clemenger, and back then big customers had to spend millions for a big ad campaign. With social media, you can basically get your product out there for free.
I literally had goosebumps and realized I wanted to work at The Digital Picnic as I loved what they were doing, plus I wanted to be closer to home. I had my eyes out for a new job and emailed Cherie. She didn't respond after two emails, and I felt a bit awkward that she might think I was stalking her. I went to one of the evening networking nights, and while chatting with her, asked her if she had seen my email. She hadn't but gave me an alternative email. It turns out she just happened to be looking for a new business development manager at the time. I have loved working there and I have learnt so much from the team of social media gurus in there!
This year, I'm working on launching some new designs, and a larger playmat for slightly older babies, which will also work well as an outdoor picnic mat. I am also hoping to branch out overseas a little more.
In my free time, I hang out with my kids and try to do a bit of exercise. I'm a boring mum, but love catching up with friends and family when I can.