"I was a BMX kid and was always on a BMX. If I wanted to know where my mates were, I'd just ride around and look for where the bikes were parked.
I was born in Mount Gambier, and spent my early days there with Mum, and had a great upbringing. Our home was on a cul de sac on the side of a dormant volcano. We had loads of kids in the area and the BMX track at our doorstep. I was close to everyone who lived there.
Mum had her own business selling handcrafted jewellery and giftware. A really well known and successful business in town. I can remember buying trips to Melbourne and Adelaide with mum, and barely having enough room to fit into our tiny Mitsubushi Colt on the way home. She had it packed like a tetris master.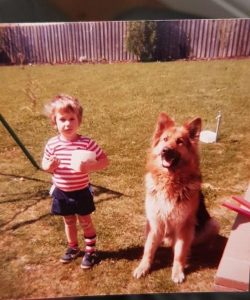 Grandma worked part-time at the shop and was a huge part of our lives. She was at our house for dinner most nights and was the life of the parties. Grandma and I were very close, we had a great bond and she is missed by many.
My older sister was accepted into university in Adelaide and boarded with family friends. We had discussed moving on several occasions, but now there was a definite reason to. Mum sold the business and we relocated to Adelaide. She had done such a great job as a single mum.
We moved St Peters, an inner suburb of Adelaide that was zoned to Marryatville high. It's a music-oriented school, and I wrangled my way into percussion. I was in a big city (compared to the mount), starting a new school in year 10…scary.
I was such a country boy in high school. I would say 'G'day' to everyone. My hair was like a tribute to Kurt Cobain, unfortunately with the centre part and sheer volume it wasn't a cool look. I made friends with the music geeks, jocks and potheads. Found my place in the middle of it all and started a band. We were into Rage Against the Machine at the time.
After high school, I went to TAFE and got straight into cabinet making. I picked up the skills but found it required things to be straight and strut, millimetre perfect, and it was a clear right or wrong. Everything had to be perfectly square.
The group of us once made a bedroom chair and spent a week in the upholstery room. It was there I found upholstery to be more creative and a great fit for me.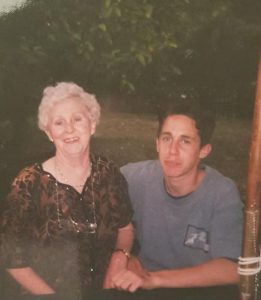 I decided to continue with TAFE and did a prevocational upholstery course, this led to getting work experience at one of the most reputable upholsterers in Adelaide, St Morris Upholsterers. It was the perfect fit, and being a small family business I soon felt very much a valued member of the team. I didn't have a dad growing up, so they were great role models and skilled craftsmen. It was a really great place to work.
After my apprenticeship finished, and a few years passed, the travel bug hit me, and I travelled to Europe.
In Amsterdam, I tried my hardest to get work in an upholstery shop, but the lady just couldn't get me a visa. The Netherlands was clamping down on illegal workers then, so I never found work there. Travels took me through Germany and Spain before I landed in Scotland.
I worked in upholstery shops in Edinburgh for two years working with some terrific tradesmen before coming back to Adelaide.
I bought my first house in 2005. Around the same time, TAFE contacted me offering a job to teach upholstery classes at night. They saw me as a young, able and well-experienced upholsterer to teach people. I began working there three times a week and gradually got busier over time. I began working for myself in the day and teaching at TAFE in the nights.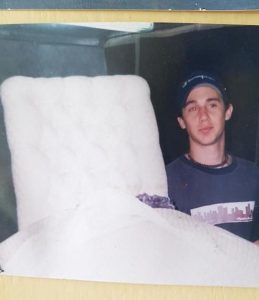 TAFE teaching meant I was making enough to cover the mortgage, and I was getting a lot of enquiries from students, asking if I could help with their project, I ended up getting a lot of work being at TAFE. Gradually, I became self-employed.
When I started upholstery, the trend then was all about art deco. You had big, heavy 1920s-style couches that were big and chunky and full of dust. I'd be pretty much stripping out the everything, the coconut fibre, horsehair pads and coil springs were set aside and rejuvenated and reused once the foundations had been laid. Real traditional upholstery. It was really dusty work, I'd go home with black rings under my nose and hacked up hands from stripping tacks all day.
I don't know how it didn't turn me off. The dirty work was epic on the club lounges, but always very rewarding after to get it back to how it was done using the same techniques used way back when.
Furniture fashion then turned to slim, sleek and minimal Scandinavian furniture. I remember when IKEA opened it was a worry to my boss. It was the beginning of seasonal furniture, and people were buying cheap and disposable furniture, and it was cheapening our work.
Trends go in cycles. The Scandinavian ones may be lighter and cleaner, but club furniture will come back again. I'm seeing a lot of 1960s furniture, as it's always in vogue and of good quality.
Lately, there's a sudden revival of velvet and deep-buttoning. We haven't used velvet for decades, and suddenly it's all velvet, velvet, velvet.
A lot of people don't know this, but I actually fix furniture. My cabinet making background comes in handy. I'm always regluing joints of old furniture, repairing broken dowels, or making new furniture. I've always enjoyed this type of work.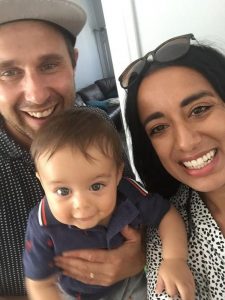 Moving to Melbourne was really crazy, as I moved here for a Melbourne girl I had met in Adelaide. Although extremely settled in Adelaide, the long-distance relationship led to a move to over. She was a Footscray resident, and I became familiar with the area and took the lease on the current shop in Kingsville.
As I was moving over with my no. 1 mate, Ziggy the then young staff kelpie cross, Kingsville was close to Cruickshank Park. We frequently walked there.
Although very run down then, I was lucky to find my current shop. It's changed a bit. Williamstown Road definitely didn't flow as fast as furiously then. You could get a car park in the front, and you could even do a U-Turn!
Why Motif? A motif is a design or an emblem. I was very much a fan of the logos that were inside Danish furniture, and I found a connection with upholstering good furniture. Motif also happened to be my first email as well. Long before I had my own business, I had used it as my email.
My wife Anita is a Doncaster Girl, when we met she was living in Northcote. Before long we had a key ceremony and she moved into the upholstery shop with me. Just like she had always dreamt of 😉
They were good years and I always remember them fondly. Motif Upholstery has been trading from the Williamstown rd shop for eight years now. Fantastic neighbours and a great community, but with our firstborn on the way it was time to move on. We had bought our house in Yarraville and moved in for our new chapter.
Going ahead, we really want to get more space for the shop. I enjoy the lifestyle that comes with working from home and hopefully we'll get hat perfect mixed-use property.
I've just started going back to Sons of the West. I've been going there since 2017, and I through that I feel plugged into the community. I just want to keep fit, and look forward to getting my baby son active with me."