Mum, partner, business owner of AA is for Art and Elysian Creations
"I moved here from Adelaide in my early 20s. I had fallen in love with a Melbourne musician and had always wanted to leave Adelaide. I guess it's just a small town thing. My father is of Polish-German descent and had grown up in Berlin before coming to Australia at the age of 17. The Lutheran church was sponsoring families from Germany to come here. He arrived in Melbourne in the middle of winter and heard a lot of Germans resided in Adelaide and moved there with his family. He's still in Adelaide, along with my older sister.
I grew up in Adelaide as an inner-city kid. The whole street was full of Italians except for two German families, which included mine. When I bought in Melbourne's inner west 16 years ago, it reminded me of my youth. It's very multicultural, was a little gritty and not too gentrified.
Both of my parents had a religious upbringing and decided to become atheists and had an alternative lifestyle. I had no TV until I was about 10, and had to find ways to entertain ourselves. I think that's where my creativity started
I was bullied a lot in school mainly because of my name and being a bit alternative and as a result, went to nine schools. My father had experienced quite a bit of racism and bullying when he first arrived in Australia, he didn't really know how to deal with it and because of his experience would continuously pluck us out of schools. Fortunately, I had a strong network outside of school.
I started my schooling at Marbury in the Adelaide Hills, it's an alternative arts-based school. I went back there aged 15, and because of some fairly traumatic experiences at previous schools, they allowed me to do art full time as long as I did a couple of English and maths classes each week. A resident jeweller at Marbury got me into silversmithing, I had access to a ceramics and woodwork room also. I have fond memories of being there as it was the only school I flourished in. It has since closed, unfortunately.
One of the high schools I went to was an agricultural college. I pursued studying horticulture on a part-time basis when I left as I liked gardening. it's something I still enjoy.
I started studying silversmithing shortly after I moved here and my first home in Melbourne was in Collingwood. My musician ex-boyfriend and I had met through mutual friends in Adelaide, and I decided within a week to move to Melbourne. I figured 'If it doesn't work, I'm in Melbourne anyway.' We were together for five years.
I set up my first shop in Gertrude Street, Fitzroy in the '90s, making and selling jewellery and opened another in Flinders Lane in the late '90s. I have always had a strong work ethic which I think came from my father's entrepreneurship; he installed and fixed computers in the 1970s, and set up his own business in the '80s which he built it into a multi-million dollar business in Adelaide. He used to work 14 hour days, which I guess came from the European work ethic.
At the height of the jewellery trade from the mid-1990s to mid-2000s, I had four full-time staff manufacturing jewellery for me. This was before the Internet took off. I mainly blame the Internet for the decline of my manufacturing business. A lot of designers shut up shop due to the Internet as we couldn't compete with cheap overseas labour. Jewellery became much more accessible online, and people stopped caring about things being made in Australia.
I used to employ a lot of long-term unemployed people. There was a government scheme back then, which was a good way to give creative people an opportunity to work. Some of them were fragile but were very good at making stuff. The government would pay their wage, while I trained them up. Some of these people worked with me for over ten years.
My business in Fitzroy gave me a lot of opportunities to work on costumes and jewellery. Through word of mouth, I began designing for fashion shows and drag queens. This included theatre and film companies and trade shows in Europe. I would make a pack of money overseas and take four weeks off in Europe!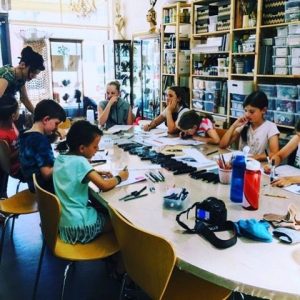 While I was still in Fitzroy, I also began teaching on a more serious level at a Yarra Youth Centre. It is opposite the commission flats, and the kids who lived there were my students. The opportunity came about quite naturally – someone had suggested I should approach this centre in Fitzroy to run some programs.
I was really keen to have my own shop with a house behind it, particularly one that wasn't on a busy main road as I could work from home effectively. I couldn't afford to buy in Fitzroy so I began looking around, I had no idea about the western suburbs and had only been to Williamstown once.
I thought the inner west was near the city, so I decided to have a closer look. Properties were a lot cheaper back in 2002 and 2003. One day, I was driving down Blackshaws Road and saw a sign saying 'Shops for Sale'. I rang about six real estate agents and told them what I'm looking for. I got a call within two days.
'There's a property along Vernon Street. The vendors want a quick sale.'
I bought it within two days of seeing it, it's a lovely, 1930s vintage shop with residence behind it. There were six empty shops back then along Vernon Street.
When I first moved to South Kingsville, it was a bit of a shock as I lived in Fitzroy for 10 years, there were no cafes. I remember wanting to go out for dinner at 8pm but everything was shut and there was nowhere to go. It was as a bit of a cultural desert.
It was pretty rough back in the mid-2000s. We had a couple of murders in the street, just a few doors down. There was a bit of public housing, or cheap accommodation then. It was not too dissimilar to Fitzroy before it became trendy. I was used to having my front door locked, and stepping over people who were shooting up to get to my door.
I met my partner at The Night Cat in the early 2000s, and he moved in with me after I bought here. I had no intentions of having children, as I've always lived in an environment with creative people. I had my first child at 40 after I decided in my late-30s 'maybe I should have kids'. My second child arrived when I was 43.
In 2008, I began teaching art to the local community. It's a natural progression as I've always wanted to teach. I do lots of short arts-based courses or will enrol in a term based class to learn a technical skill so I always have new material to teach to my students.
I've recently started teaching at Yarraville Community Centre (YCC), running a government-funded arts program for homeless women who are victims of domestic violence. I also run another program through YCC for 55-plus women and running workshops for after school and term-based art programs for kids at my studio in Vernon Street.
One of my goals for 2019 is to head towards more community stuff. Getting some extra funding to offer free or heavily-subsidised arts workshops for kids on the spectrum is something I really look forward to doing.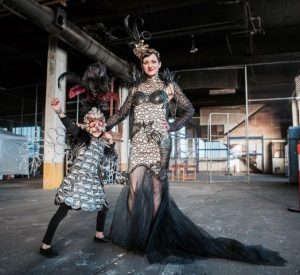 There's a sense of achievement, watching a child beginning to blossom. It's art therapy. Art has an amazing impact on kids, and for adults who are victims of domestic violence. Many adults who begin learning from me are initially unsure and have trust issues. I guess it's due to my family background – there are some mental health issues in my family – which may explain why I'm not phased by challenging behaviour.
I'm currently working on seven costumes for the Art & Industry Festival. I'm making a dress out of beer bottle caps, another dress out of drink coasters and a dress out of cable ties. It's all about making costumes with an industrial element. I also work with a lot of recycled and found objects, including a dress made out of car tyre tubes.
I like the big Advieh in Seddon, and you can find me there often. Roti Road in Footscray is another favourite as well. I run a lot of classes or art parties on the weekends at my studio or YCC, and soon I will be at Footscray Arts Centre as well."