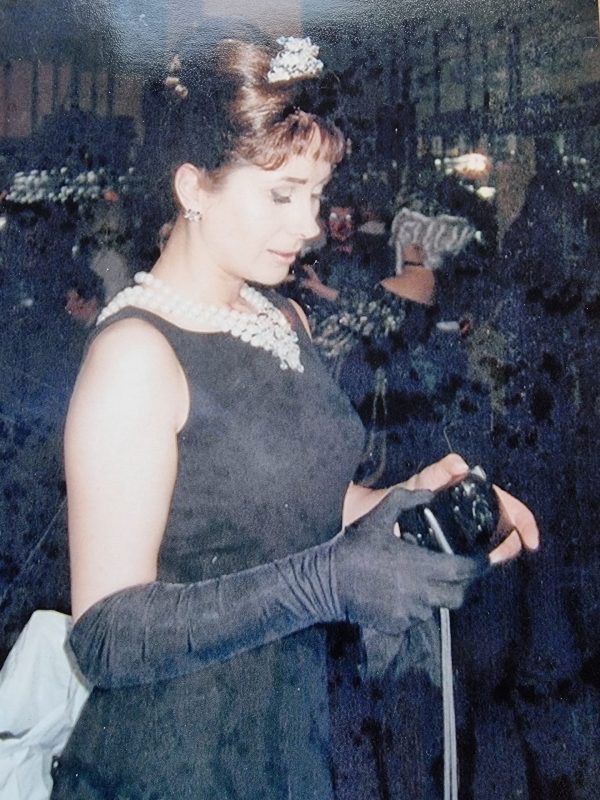 "It's a miracle that I was born. My parents were ill-suited for each other. Mum is the oldest of seven, and is from Tarrawingee outside Wangaratta.she was a dreamer and never felt like she fit in  Dad was charming and persistent and always wanted what was unattainable . My grandfather and his brother uncle Harold drove mum to the Eldorado church on her wedding day , commenting on all their neighbors crops and livestock .  Mum cried all the way to church as she knew she was making a mistake . She really wanted to get away from the  farm and had romantic notions about her new life . The honeymoon in Lord Howe Island was also a disaster. They arrived to find their hotel room was double booked, and spent the first night in the baggage holding room surrounded by other peoples luggage in a sagging single bed with partition walls so you could see peoples feet as they walked by .. When they got their room, Mum got sick and couldn't walk, and Dad went spearfishing all day. That was their honeymoon.
Mum had an emergency c-section as the umbilical cord was wrapped around my neck. Mum didn't see me for five days. She was worried that I'd be damaged, but I was fine. Mum was two weeks overdue when she went into labour , both of my grandmothers descended on the little house in Pascoe vale  and dad smoked a ham and made beer in celebration . Mums mum was a Methodist and didn't approve of the beer but dad stood up to her basically saying my house my rules . I'm the only child from that union . My dad married 2 more times and I have three half-brothers from Dads third marriage .
When I was about two, Mum and dad  were living upstairs in a terrace house in Carlton. The landlord – an Italian man lived downstairs . His Italian wife had gone back to Italy and never returned and when things fell apart between my mum and dad he began going out with Mum. Coming from the farm, Mum loved how exotic he was,  they had a tempestuous marriage he was a lot older and had a terrible temper. My brother (half brother but it doesn't feel like that I've known him since he was born )is five years younger, and it was great when he came along as he was going to carry on the Italian lineage and name. When he was first brought home, he was this purple screaming thing , I was very disappointed id been promised a fun sibling . Four years my sister Anna was born and she was adorable.
We moved to Kinglake as my stepdad wanted acreage. It was a 25 acre property, with cows , ducks chooks a natural spring and 2 dams . Their marriage didn't go well  and after about eight years, and Mum decided to do a runner  with the three of us in a Kombivan she said take whatever will fit in the van and that's it . We moved to Hawthorn into my uncle Chris's flat temporarily.
After six months Mum found a flat in Dundas Street in Thornbury. It was really hard in the 80s for a single mother with three kids to get a rental property. She got back together with, and separated from, my stepdad several times.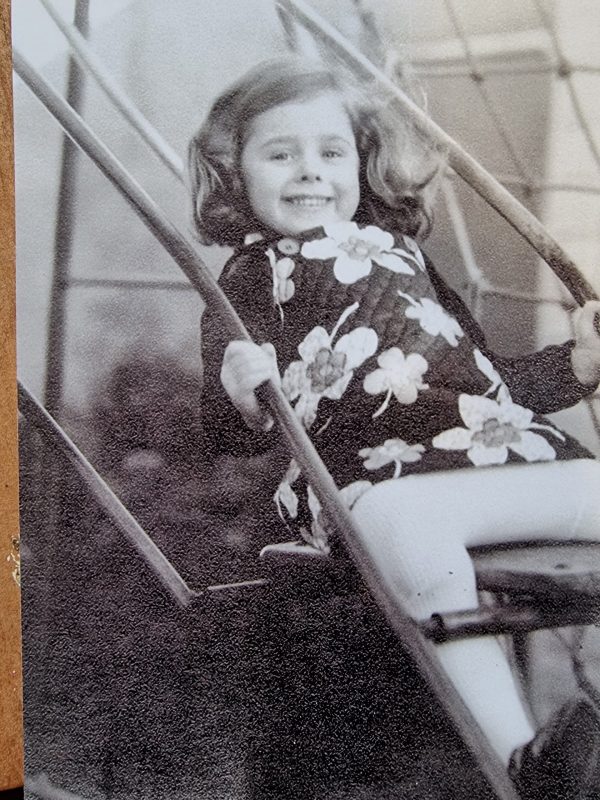 I've moved house 30 times over my life, including Greensborough and Preston Macleoud, Fitzroy , north Fitzroy, Carlton , Cheltenham , Pascoe Vale , Parkville, Noble Park and Port Melbourne , the list goes on and on.
When we moved to a bigger rental property in Preston, our landlord fancied Mum and asked if she was lonely, he would bring her bottles of home made wine and hang around – wouldn't happen now I hope !. She was working in TAFE as a librarian then. I left school at 15 to do hairdressing for two years only as I was allergic to all the chemicals. I spent two years in TAFE doing TOP arts so I qualified for tertiary education but I never went there . The independence that working for a wage gave me was far more enticing.
When Mum ran away from stepdad, we had nothing. When she got that house in Preston, we didn't even have a couch. She bought our first couch with her tax return so we called it the tax return.
I took on the responsibility of co parenting with mum as she worked full time , I also contributed financially to the household. My brother also helped out he got a job at the local dry cleaners part time . I took on a lot of parenting duties. I did a lot of the cooking and went to my sister's Easter Hat parades , made school lunches and did a lot of the cooking and cleaning .
This is the reason why I didnt want kids, as my siblings were my babies , I had already done my fair share of parenting .
When I was 17, I was underaged but found work as a doorgirl in Ashley's Nightspot in Smith Street, Collingwood, I used to catch the tram there from Preston .
When I was at TAFE, I was also a door bitch in Bombay Rock in Sydney Road. It was across the road from Crystal T, a strip club. I was working two jobs – in Myer Melbourne and Bombay rock – while studying. I was often so tired I'd fall asleep in the school cafeteria across a couple of chairs amongst hundreds of rowdy students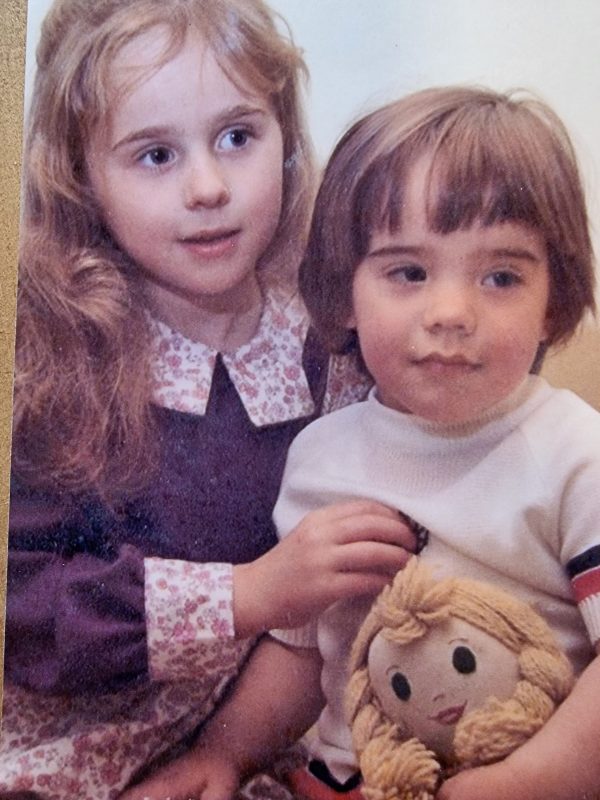 In Myer Melbourne I worked in the toiletries department. I was good at that, and Max Factor poached me. They're famous as they invented the first TV make up when film went into colour, as people looked a little off on camera. I heard there was a job in the Royal Arcade Perfumery, and ended up working there for 16 years. I love – and still do love – perfume. My boss Di taught me everything I know about merchandising and selling perfume and accessories . She was my absolute guru and a second mum to me also , Paint 'n Powder is a family owned Business and working there you become a member of the family
While I was there, I met my now husband Craig. I had been dating on and off, but was unhappy. My sister contacted me one day and said she was go-go dancing for a surf band at the old colonial hotel in Fitzroy, and persuaded me to go watch her. I went to this pub, and she spent the whole day trying to introduce me to this guy who was a bit  deaf and catching up with heaps of his friends
At the end of the day he finally came over, and my sister introduced us .it was like the movies. We started talking, and when we looked up, the place was closed and people were gone. He  dinked me on my bike to Mario's Cafe for a coffee then back to my share house in Carlton and asked if he could take me out for brekky the next day. We've been inseparable since, and have been together for 20 years.
We lived separately for the first couple of years, as I was reluctant to leave Carlton. But Craig wore me down, and I moved to Maidstone with him. That house has been with the family since 1946 and belonged to his great uncle Joey and great aunt bertha . I was initially very dubious about Maidstone. I loved Carlton and Fitzroy and had never heard of the suburb Maidstone
I was at a loose end and needed a job till I worked out what I wanted to do with myself , I had known Marita when she had a little accessory shop in Block Place in town , when I was working at the perfumery so I approached her and worked for her casually for a while .
I saw an ad for a position working in costume hire and desperately wanted it , my love of make up , background in hairdressing and long history of costuming up at any opportunity made me think this was the perfect job for me .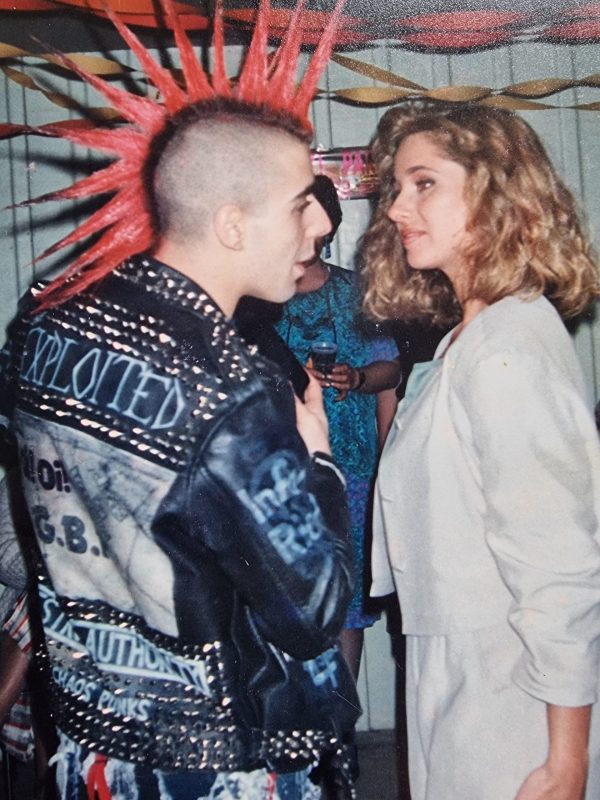 I was working in a costume hire company that had five shops across Melbourne. They had costumes from over a 100 year period including costumes from J.C.Westend a famous performing company , this wasn't your standard crappy buy on the internet stuff , we dressed movies and tv shows and had an amazing library of vintage stage and street clothing , they moved into Hardware Lane. Later I became the Wig Mistress of the company, and would style wigs to match costumes that were being hired or the productions being staged
I worked there for three years in the city stores and the GM of the company created a position for me to go into the Kensington store to co-manage. The manager in Kensington knew everything about theatre, and had an incredible knowledge of the costumes for every show but managing the nuts and bolts of the store wasn't her forte. the shop also had a dedicated mascot/costume department run by Chris who used to work for Disney and could make anything you could imagine . I came in, put systems into place within the store and it was running so much better.
While riding my bike one day I broke my arm, and was off work for three months. The GM realised I'd fixed everything, and decided I wasn't needed anymore. I was made redundant, and it broke my heart. I didn't know what to do with myself.
When I came back to Yarraville to find a job, Marita didn't have work for me. But her husband Alexis from Village Idiom had some work. This was around 2009., I worked for Alexis and took on more responsibility over time. The shop was a little weird and quirky (still is!) and Alexis was getting bored with it. The foot traffic was relatively similar to now, due to the cinemas and a mix of shops. Alexis would sometimes vanish, and not come in. I'd  work days where he didn't turn up at all.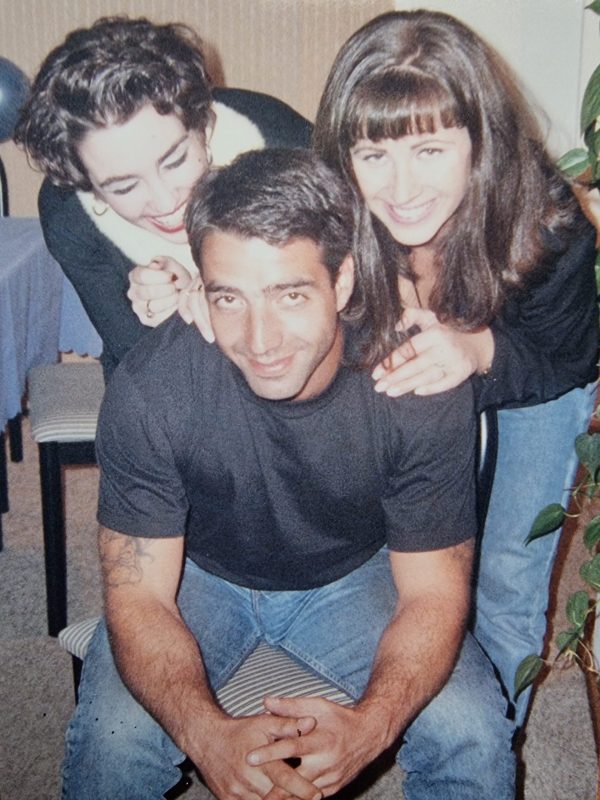 As time went on, I got more involved in the buying and stocking, and loved it. But I felt like it was a dead end job, and needed to push myself further than working for him. I saw a job as a wardrobe manager. They did huge productions at the end of every year, including musicals. They had a women who'd design the costumers, and they needed a person to manage the inventory. I went to work there and had a really bad time as they didn't have a good culture. It involved all the grunt work and none of the joy id experienced before as I wasn't involved in the actual costuming directly and I was experiencing some bullying and negging which was awful .
Alexis contacted me one day and had a proposition for me. He asked if I was interested in buying the business. It was terrifying and exhilarating though, so we put our house up as collateral for the business and over the next year and a half or so we gently negotiated our way to a sale .
When we do make the leap, good things happen to those who make brave choices. My sister gave up a career in government to teach dancing, and she teaches dancing and does trivia nights. She enjoys her life so much more. If you don't back yourself, who's going to back you.
Alexis backed me 100% and his endorsements went a long way towards getting me accepted as a member of this community , its a little like a country town  and it takes a long time to become a local . In my time here I've shared the sorrows and joys of so many people and its such a privilege to be a part of it all . Buying the business was terrifying , especially for me having grown up in such a perilous financial environment always . My darling husband put the house up as collateral and the pandemic was so stressful as I thought we might lose everything . The most beautiful and magical thing in those tough times was that pretty much every single person doing a click and collect was somebody we knew , trying to support us to survive the lockdowns .
After a lifetime of moving and adapting to change , I finally feel like I've found my place , I love the inner west and am so proud of what it has to offer , often if someone come into the shop and tells me they're new to the area I give them a rough to do list of places to go , bloggers to follow bars to drink at places to eat creative and music venues – I mean WOW , how lucky are we with such a huge range of cultures , cuisines , arts and hospitality venues at our fingertips !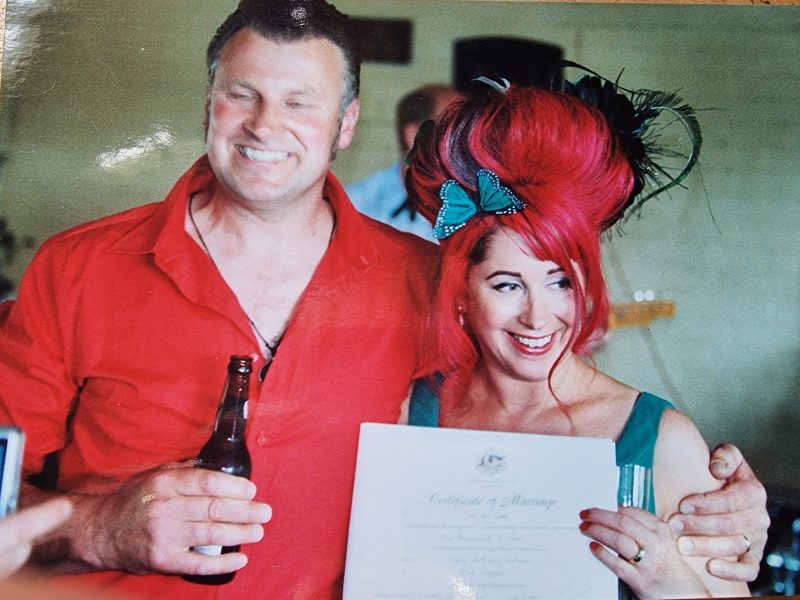 I have a team of lovely staff, including Jacqui who helps me out as a casual. When she's not doing amazing things in her life like singing , acting or being a celebrant , she helps me out at the shop. I'm a visual artist and am drawn to creative people. My sister sometimes helps me out when we're busy, such as Christmas. Many former team mates sometimes make guest appearances, the lovely thing about Village idiom is that we mainly stay in touch and all love each other it's really nice. Nicola used to work with me and is now a teacher (she will be amazing at that ) and somany others have gone onto other things but make the time for some guest appearances over Christmas
Hello to all my Village Idiom ex-staff and I'll see you at Christmas!
Halloween is my most favourite day of the year. The sheer joy of it is that its not for any financial gain. If fact it costs me more money to buy the lollies! It's beautiful so see everybody dressed up, flooding the village, and my face hurts from smiling.Its the community coming together in the most wonderful way and it makes me so happy . Jacqui and I usually have our costumes planned out well in advance  We already have our 2024 Halloween costumes planned out!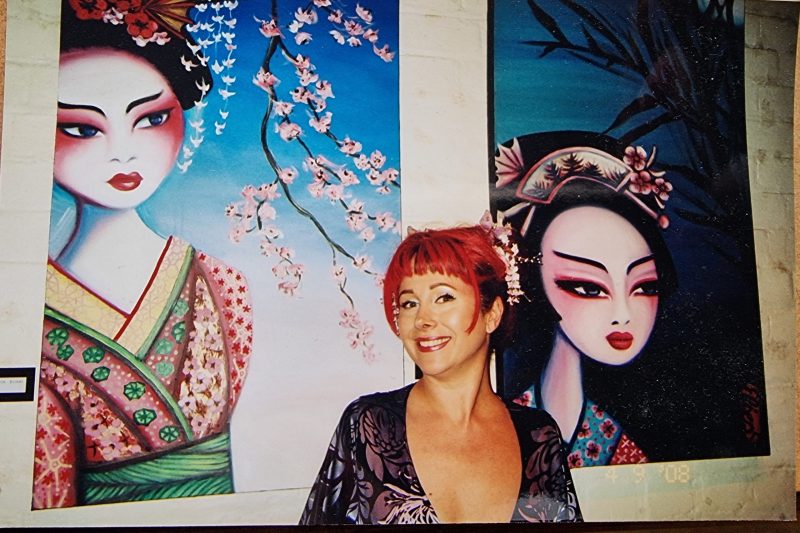 It's so beautiful to see little smiling faces, families and their doggies dressed up and participating and it demonstrates how lovely our community is. Halloween is one of the biggest thing for the Yarraville Traders Association.
I was really sad during Covid as we couldn't do Halloween, as it brings together a lot of people, and my love of costumes, wigs and makeup.
I'm a mad keen gardener, and have a beautiful cottage garden. Having worked in a perfumery, I like fragrant plants and everything that's fragrant. At the very back of my house I've got a veggie patch. I grow my own veggies and I also paint. I am working towards another exhibition one dayin the next year or so . I love cooking gardening reading and painting , im a bit of an introvert on my days off and love quiet time to myself, . My first trip to Mexico, I really got into the food and I got to cook proper Mexican food which im now obsessed with , I grow my own tomatillos , poblano , habanero and jalepeno chilles coriander etc and make my tortillas from scratch , cooking is one of my joys , having grown up half Italian food is an expression of love and care and I enjoy it .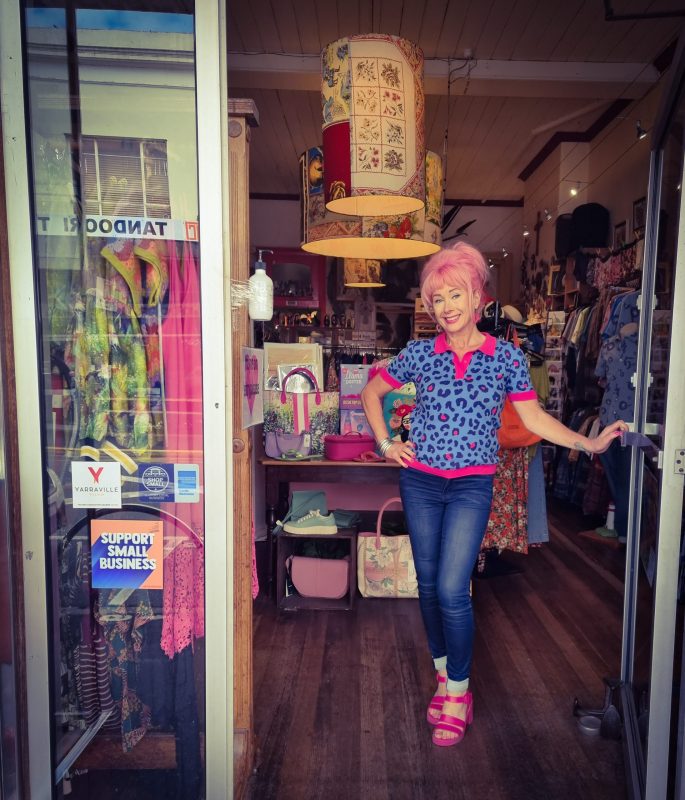 You never know where life will take you , I wish I could have told 20 year old me where I would land eventually , I feel so incredibly lucky to be a part of this vibrant joyous and tight knit community and so proud of our incredible community !"