"I was born in 1974. Mum and Dad were originally Melburnians, so I don't have an exciting migration story. They moved to Sorrento when I was four. It was a difficult thing to do back then, as they both had professional roles in the city. A move this drastic meant they would have forecast exceptional changes on the family unit. I guess this is why I'm able to relate to a lot of my buyers, as I help people make seachanges and treechanges.
People often say to me, 'It must have been nice growing up in Sorrento.' Truth is, it wasn't easy. The Peninsula has its limitations for permanent residents. Schooling is limited and most things require a lot of travel, whether it be seeing school friends, playing sport or shopping. Dad launched and operated his hifi shop in 1980, and I grew up with a sharp understanding of what it was like to run a business. I learnt early that business owners don't get holidays, and businesses are demanding.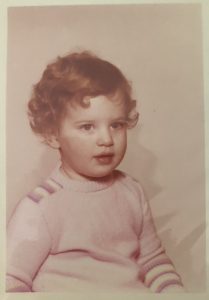 Mum was a nurse, and due to work commitments in the business Dad often didn't get home until after 8.30 in the evening. When it came to uni, my parents never talked about it as an option. Neither of them went to uni, but the expectation was set. I owe enormous gratitude to them for encouraging us to all believe that we could have professional careers. In fact, anything other than this never felt like an option in my household.
I'm the oldest of three kids, with two younger brothers. Our house was always really busy; my cousins had lost their mum early, so they were always at our place too.
A lot was expected out of me, so I was really well-behaved and responsible. I was often picked on in primary school due to my height. Tall kids often feel vulnerable, and I was consistently in the middle background of all school photos. I didn't start to enjoy my height and own it until I was in my late 20s.
I was not into sports and was always the last girl to get picked. Dad had bought a piano before I was born, and I played the piano all the way through VCE. Neither of them played the piano, and it cost $70 then, which was about a week of wages according to Dad. It's a German walnut upright, with an iron frame, and it's followed me to every house I've ever lived.
I met my first husband in high school. We were married for four years, and I was 24 then.  Work changes you, as you become more worldly. It's a tough change to navigate and to get married so young, and the breakup was very painful, but they always are. Our lives have both moved on since.
I pursued Science in Monash Uni. I wanted to study medicine but didn't get the grades. Science was the closest thing with a potential pathway to Medicine. I found Physics really hard and thought Chemistry was going to be difficult. Oddly enough, I picked it up like a language, and while I didn't really love it I finished my third year and was even offered a placement for an Honour's project. The truth was, my heart wasn't in it anymore, but I was afraid to tell Dad and I didn't really know what else I could do with my honours degree.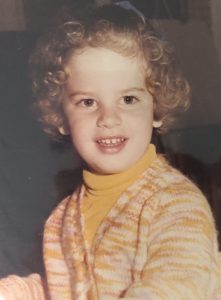 During honours, I was saving very hard for my first home in Mordialloc. I should have kept it, in hindsight. I signed the contract in my final year of uni and moved into it 18 months later after it was built.
My first job was in ICI, now Orica. It was a fantastic introduction to corporate life, as I didn't want to work in a lab anymore. I remember my first letter of employment from the boss, with a salary of $32,500. I was so excited.
I was sharing a house with my brother then, and hearing that my future boss was going to drop in with my letter of offer soon after I got home from my deli job at Coles, I got into a fluster. We were arguing over who was going to do the dishes, and I told him I'd shout him dinner if packed up the kitchen. He did so by placing the dirty dishes in the oven. I got the job.
I made some lasting friendships in ICI. My boss Alan was really lovely and was instrumental in seeing me transition into a sales role. He recognized early that I was a people person, and introduced me to a few opportunities within the company, which was a great thing for a boss to do.
I found a role in Dulux, with a pseudo-marketing and sales twist. That's where I met my husband Ian. The role was taking me around Australia, and I used the role to escape the pain of the breakup. It initiated some life-changing decisions, and I realized I didn't want to work in a corporate environment anymore.
By the time I'd split from my ex-husband, I had bought and sold three houses. My fourth home was a little unit in Mentone. It was my refuge – it was sunny, comforting, small and I loved it.
When I left Dulux, it was like jumping off a cliff. I realized I love property, and I knew I'd enjoy the buyer-seller matching and felt I could be an outstanding real estate agent.
My first employer was Hodges, based in Sandringham. I was acutely aware that not everyone was welcoming of me. A colleague once said to me 'It's nothing personal. The loaf of bread stays the same, but the slice gets thinner.' That was my first insight into how camaraderie felt in a real estate business. It is brutal and honest, but true.
In my first year, I won their Rising Star Award. The parts of the job I enjoyed the most were working with buyers. I enjoyed analyzing rental returns and being able to talk to buyers about the investment grade of particular properties. The reality was, I needed a different qualification to enable me to step into a more advisory-based role. By this stage, I was with Ian, and we were nutting out our investment plans, and putting our acquisition plans into motion.
In between leaving Hodges, and giving birth to my daughter Gab, I got into mortgage broking. I couldn't do real estate with a baby on the way and felt mortgage broking allowed me to work from home, and still remain close to residential property and people.
When Gab came along in 2006, it was abundantly clear to me that I needed to be self-employed and the obvious opportunity was to work in finance. When the GFC hit, I learnt a lot about cash flow, and I saw lots of mistakes people made. I wanted to make sure people didn't make the same mistakes going forward.
I met my past co-director in 2010, and he had initially offered me a role as a broker within his business, Empower Wealth. However, I had already taken steps to become a Buyers Advocate and had completed my Certificate IV in Property Services. I wasn't interested in broking but saw the culture was right for me. I become a Director within the business, focusing on buyers advocacy. Over time Ben's vision grew, and I didn't want to scale up, which led to a difficult decision.
I resigned in May 2014, which wasn't received well.
By this time, I knew I wanted a vibrant and busy business but it had to be boutique. Ian and I had just moved from Aspendale to Yarraville. Why Yarraville? I wasn't seeing Gab in her waking hours and hated the travel up and down Nepean Highway. It wasn't particularly convenient for Ian, as he was working in Chelsea Heights, but the daily commute to North Melbourne killed me.
One evening in winter, I walked through the front door and burst into tears when I realized I'd been moments too late for Gab's goodnight. She was sound asleep. I just couldn't do the commute anymore.
Yarraville was the closest to North Melbourne, which ticked all the right boxes. Ian and I wanted a three-bedroom period house under $800,000. I had previously placed clients here, and I was getting increasingly jealous every time. I purchased for a lovely couple on Anderson Street, and decided 'I want one!'
We did buy our forever home after some off-market callouts to agents. We met our vendors during the negotiation process and became firm friends. It has been the happiest and most special deal I've ever done.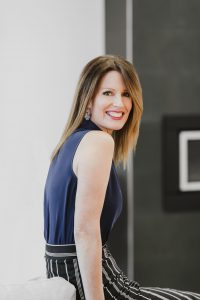 I was doubtful I could align my vision with anyone else's and didn't want another business breakup. The business breakup was harder for me than my marriage breakup. So I went into business alone.
I used my name in the business as I could be found through Googling. I had already developed a profile in my last job, so I knew from a SEO point of view, I would be easy to find.
My first office in Yarraville was where Sister Margaret's is now. I was there for two-and-a-half years, paying $1,000 a month. It was as big as a kid's bedroom. We shared the toilet with the Bottle 'O next door, and every Wednesday the garbage truck would block Simpson Street on bin day, stinking up the street as well. I'd have to plan to park my car on Ballarat Street on those days to avoid getting stuck behind the dumpster truck when I had an appointment.
Fortunately, my business had a really fantastic start. In 2014, there was a need for advocacy services and someone local, based in and understood the Inner West. A lot of people didn't know the Inner West. A lot of eastern advocates don't come here.
Between 16 May 2014 and August 2014, I had six weeks to establish the business. We opened in 3 August 2014 and by October, Ian announced he was quitting his job, dedicating himself to our business. Ian focuses on the insurance, payroll, HR and also looks after Gab. He believed in the family business.
I've always felt fearful that I don't give Gab enough of my time. However, she's got a wonderful parent at home, and she sees me in real-time. This is what happens when you're a passionate businesswoman.
Last year was hard, as consumers disappeared. Other firms were letting staff go, and people were asking me for a job. It was a frightening time.
I hope we don't lose our essence. We are currently four ladies and a cat-strong; we don't want to grow any bigger.
I've always believed in needing a personal village to be a Mum while running a busy business. This is not a business for everyone. In real estate, if a negotiation comes along, you suddenly have to give up your dinner plans. You don't get a lot of time off, and that's how it goes.
On Sundays, I don't touch the car keys. I do something with Ian and Gab, and we love travelling around Melbourne. Sunday is our Myki Day. We take the train everywhere.
I'm not a foodie, but I'm also not a cook. You'll find me in a lot of cafes and restaurants with my beloveds."