"I'm the youngest of three, and was born in Melbourne. There's 12 years between my brother and I, and six years between my sister and I. I have two mums, spending time between Armadale and Hughesdale.
My biological Mum Jenny always knew she was gay, and had an agreement with Dad. Both my mums got together when I was 18 months old. Mum was never interested in Dad but wanted to have children. It was the closest thing to IVF back in the 70s. When I was conceived, Dad was dating his current wife, so although my Stepmum knew about my brother and sister, she only found out about me when I was 26.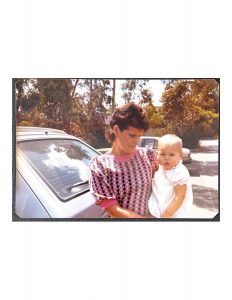 Jenny and my mum Jan are known by my sons as their Two Nannas. Although Jenny doesn't like to be 'Nan' or 'Grandma'. She's 'GlamMa'.
Growing up, people would ask me when I found out Jenny was gay. There was never a time where she would sit me down and tell me. All my teachers and friends knew. It's part of my life, and I never knew any other way.
I never liked after-school activities, and technically Jenny was a single mum. She'd be on shift work and I never did out of school stuff. I was into music, and wanted to learn the clarinet, but we couldn't afford classes. From an early age, as Mum is gay, I'd go to drag shows and that's the norm for me. I spent a lot of time with adults. I think I'm certainly more open to people's life choices.
I wasn't great at school. I just got through, wagging school heaps. I don't have a Year 12 pass as I didn't hand in any of my final year assignments. I don't think I even went to half of end-of-year exams. I always say Year 12 was my Gap year. I went through a tough time in Year 9 and 10 as I was getting a lot of migraines and didn't know if that was stress-related. I definitely got it from Mum as it's a hereditary thing.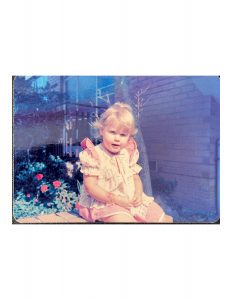 After high school I did a seven weeks pre-apprenticeship hairdressing course in TAFE. I wasn't sure what I wanted to do as I always wanted to be a fashion designer but didn't apply myself in high school. As a result, I thought of giving trade a go.
I started at the time where hairdressing was a four-year apprenticeship. Due to the seven week pre-apprenticeship course, that took six months off the application, and I began working in Prive' Salon in Chadstone. The manager was also a trainer and gave me a chance, so I was fast tracked in two-and-a-half years instead of four years.
I stayed there for nine years.
While I was in Chadstone, I became an educating consultant for a Paris-based hair company. They had a head office in Sydney, and I would travel around Australia, teaching people the latest trends from Europe.
This wasn't an overly-common role back then. I did that until I left Chadstone.
I met my husband Daniel in October 2008 when I was still in Chadstone. We started dating in December 2008, and moved in with him in January 2009. By this time I had moved to the West as  Daniel is from Williamstown. My girlfriends thought I was crazy as I was moving over the bridge, but I really enjoyed it and felt like it was a holiday destination back then. I had never been over to Williamstown that much.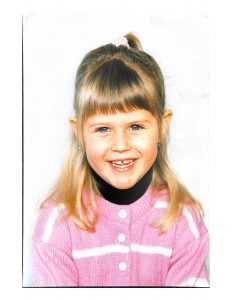 Chuck in a bit of romance, and it felt like a nice seaside holiday.
The commute was getting to me then, and I left Prive' in 2010. I began working in StrugellCOLE along Coventry Street in South Melbourne. Daniel proposed to me a year after we got together, and we got married in 2010, exactly two years to the day when we first met. This is coming from the girl who wouldn't marry, or have kids.
Jarvis was born in 2012, and within six weeks of having Jarvis, my clients – who had followed me from Chadstone to South Melbourne – were calling me. I didn't really want to go back to the same salon, and I rented a chair from a girlfriend in a Windsor-based salon called Queen of Sassy. Amanda, the owner, had worked with me in Chadstone, and I worked once a week whenever I had clients.
In 2014, I had Hunter, and after he came along I was back to work within four weeks. At that time I felt it was more about mental health as it was doing something for me. Even though I wasn't making a lot of money, I enjoyed just getting out. However I wasn't building any more clients at that point. I decided to look for local work in the salon but also considered rebranding myself before I went into a salon.
I started a workshop in The Digital Picnic in August 2015, and met the business owner Cherie. Four weeks after the workshop completed, Cherie emailed me and said, she's a busy mum with a business and don't have time to go to a salon, and asked if I would like to go to her house and do her hair.
And that's how Colourist Cat Mobile started.

As Cherie was so actively involved in the Inner West, she posted about having her hair done with me, and the convenience of having it done at home. My business started to grow. I started working one a week, and am now working five days a week, Mondays to Fridays. It got to a point where it was pointless going over to Windsor as it wasn't flexible. I had to break up with my clients. As a hairdresser it's really hard to breakup with clients. Some of them have been following me around for 10-15 years.
In the first couple of months, while I was building up a clientele, I would text Daniel and let him know I've arrived and was safe. Now we just walk down the street and can't walk 100 metres without seeing somebody what we know.
After 12 months I had a nice clientele and all of them were just solely from recommendations within the Inner West. I still occasionally get clients from Essendon and Carlton, asking if I go there.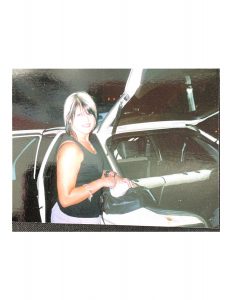 I love that I provide one-on-one service. When you're in a salon environment, at the worst times I would have three or four clients on the go, and it was hard work. I get to meet so many lovely families and I felt like a part of the family. I would watch the kids grow up, and it's really lovely being welcome into someone's house.
It's physically hard work as I carry all the stock, and have something for every possible situation. And as I run my business between school hours to cater for my family, working hours could be tough and it's a rush for me.
During Covid19, I lost a few clients who moved out of the Inner West to regional areas. The business was closed for 25 weeks in 2020. Even though salons were still allowed to be open in lockdown 1, as I was visiting people's homes, and homes are considered hotspots, I made the decision not to run my business.
The one positive of having to close my business was being around the kids. Although, I wasn't sure how present I was for remote learning.
I do love being mobile. I love the service I provide but I'm also questioning how long I can physically being mobile for. At the moment it works well with the family. Daniel works from home most of the time, so I'm asking if I'm ready to have a base?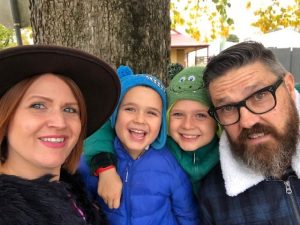 That's what I'm looking at over the next 12 months. I'd still love to be mobile for first and second-time mums out there. There are some clients who would never step back into a salon again, and to have flexibility to do both would be great.
People forget I'm washing their hair over the kitchen sink or a bath. It's not only physically hard on myself, but also on the client. It's not the most comfortable situation, but it gets the job done.
I remember when I first went mobile, I would ask if I was charging enough. Although my price was a little lower, I'm providing a service that some people would pay huge money for as they can't get out. Many don't want to get out in the evening or the weekends, as they value their family time.
Fun fact: I'd have loved to be a shoe designer. I never ate lettuce until five years ago. I love it now. So much so I'd even order a Caesars salad. I had a texture issue with lettuce. My sons have texture issue with jelly and they can't eat it.
On weekends, you can find me at the Royal Yacht Club when Jarvis is sailing, or at the races, or collecting art pieces."