Resident of West Footscray, Retired from parliament but not from life.
Younger life
I grew up in the coal mining town of Morwell. Mum worked in a factory and Dad worked in what was previously called the State Electricity Commission. Both of them were labourers and never had a huge amount of education. I have two sisters; one of them has since died and a brother.
Morwell was one of those towns where there was very little money. Dad was also bipolar, so he spent a lot of time in a psychiatric hospital, leaving Mum to raise the four kids. As this was pre-Whitlam, there was no welfare safety net.
Like a lot of women back then, Mum left Dad after the single parent benefit was passed. She raised the four of us on her own. It's a hard town and my family didn't have much in regards to education for girls. Back then, it was presumed women would get married and have children.
That was never the path I wanted to take. I moved to Melbourne when I was 17, and found work at Kew Cottage, a large institution for people with intellectual disabilities. I was a trainee nurse but never finished the syllabus. Melbourne seemed like the right choice as I had uncles and aunties here and working at Kew Cottage meant I had accommodation in the nurses' home, which made a difference to me.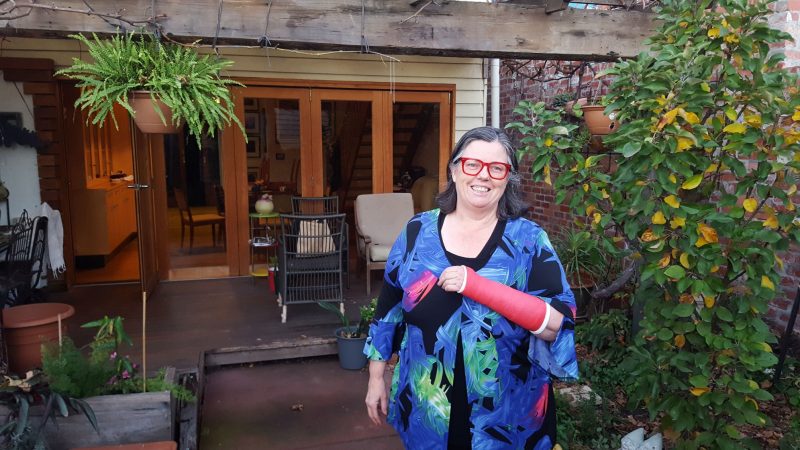 Can you believe my role was then called a Mental Retardation Nurse? I am 59 now and this was 42 years ago, almost like another age.
I was raised as a Catholic and was deeply religious at that time. People find it hard to believe now, but my intention was to be a nun. That never quite worked out as I fell into politics.
Taste in politics
I first got involved in politics when I moved out of the nurses' home and into a share house in Collingwood. They were starting to build the F19 Freeway, and it went up to Alexandra Parade. There was a massive campaign against it from the locals. There was a barricade and a big fight. They argued it was going to pour massive amounts of cars in their communities.
Look at Alexandra Parade now. The mistakes are repeated again and again.
I was 22 when I met my husband Victor. I was a volunteer at a community radio station 3CR and he was working for Toyota in Port Melbourne. They were out on strike, and we got chatting. Basically, we've been together ever since. It's incredibly romantic, we met on and we spent our honeymoon on a picket line. The romance is amazing.
Victor had a flat in Footscray then, and I moved in with him. It felt like home. Back then, Footscray was a very working class area with a large number of Greeks, Macedonians and Italians. There was a strong sense of community and people looked out for each other and I really liked that. We've been on this side of town since.
We bought our first house for $58,000 in Footscray 28 years ago. It was a tiny cottage, right next to Footscray station. We walked out and we were right on the Williamstown line. We never looked at the timetables as we were so near the station!
Back then nobody wanted to live here. It smelt as the meatworks and chemical factories were still here. About 15 years ago, Footscray got discovered and people realized we have the best variety of food and it's cheap. I get really annoyed when I go to other parts of Melbourne and pay $30 when I can get it for $15.
This was in the 1980s, and heroin was at its absolute worst in terms of street trade. People were dealing at the station. They would buy heroin and use it in our street. I got involved in the local community group as I didn't know anything about drug taking, but was afraid to find someone dead on my veranda. I got involved in a group called Footscray Cares, which pushed for a supervised injecting room.
When I went to my first meeting, I didn't know anything. When I stepped out of it I was convinced this was what I had to do. The idea that someone could die and no one could stand up for them stood against everything I believed in.
I remember coming one day to see a couple injecting with a baby beside them. It was so confronting watching them, and you just never know what was going to happen. You can't intervene, nor can you ring the police as the parents would end up in trouble. That won't help the baby. It was just awful to watch, the desperation of people's lives.
Coode Island
What brought me to prominence was the Coode Island fires. It's a large storage facility that exploded in 1993, and the fire went on for two days. I belonged in a group called the Hazardous Materials Action Group, and we've been campaigning for two years before it actually exploded. There had been a series of fires, but no one cared as we were on the wrong side of the river.
The media only paid attention to Coode Island when the smoke from the fire drifted across the city. A full-scale enquiry was called by the government as to what had to be done. Suddenly, we went from hysterical residents to being respectable residents I was the spokesperson for the group.
At that time, I worked in Parliament House as a kitchen hand. I have a serious problem with literacy. I've never been diagnosed but I've I have all the hallmarks of dyslexia. My reading is fine but my writing is shocking. I really struggle with it. Those years when I was a Member of Parliament, I had my 'Grammar Queens and Kings' helping me reword my writing. The joke was – give 500 people to speak to Colleen, but don't ask her to write it.
The fire was a pivotal moment for the West. We were treated as a dumping ground. This is a very old suburb, and that was what brought me to prominence as a community activist. I still deal with the media now, as I've known them for a long time. Reporters who were juniors then were now seniors. I've always been good at the 30-second grab.
When John Howard played the race card on the Tampa Affair, I felt ashamed of the government as Australia has always been a multicultural community. We all come from somewhere else. My family was six or seven generation, Victor's family were a mix of convicts and free settlers as well.
I thought what happened in Tampa was so cruel. A ship with 300 people wanting to escape the worst form of terrorism but the government had no room for them. Instead, they used Tampa to gain votes during the federal election campaign by responding to the lowest common denominator.
When Labor said they would stand shoulder-to-shoulder with the Liberals, the only one who disagreed was Bob Brown. That's when I aligned with the Greens.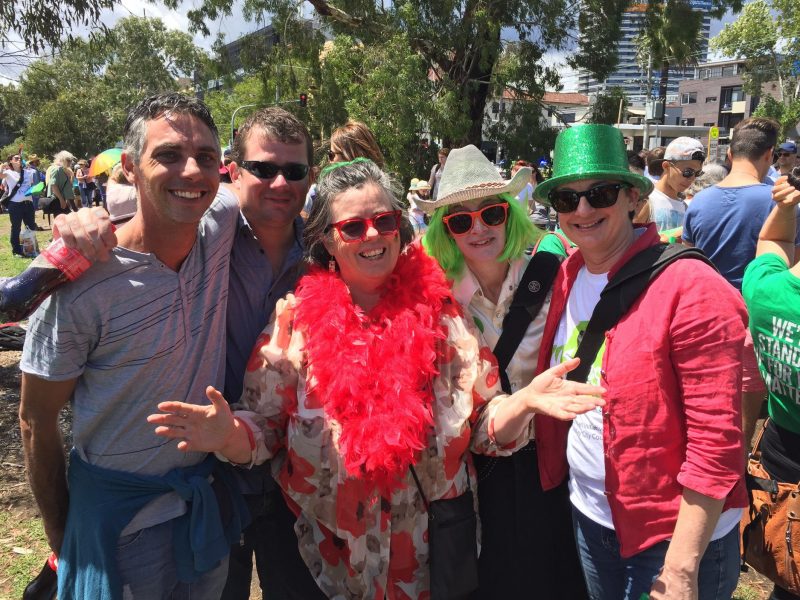 Victor and I have been together 37 years and married 27 years. He was a union organiser, so our politics are very similar as we come from working-class communities. He now works at Broadmeadows railway station.
We have no children. The choice was complicated and simple for a couple of reasons. I didn't think I had the patience to be a parent. It's really hard work. I am an aunty to a lot of friends who are at the 'Oh my God, I am 38 and I don't have kids!' stage. There's a large number of mental health issues within my family, and growing up I wasn't sure if it would affect me in the same way.
As I got older, Victor and I realized we made the right decision. I like other people's kids but it's a big job. This way I can be aunty, do all the fun things, and give them back after making them demented on red cordial and lollies.
I have a theory that people who live together and are in a long relationship, need to live in separate parts of the house. In the early 2000s, we began looking for another house as the first one was tiny. This house is perfect as Victor has a man cave and I have a study.
The house used to belong to friends of ours. We came for a barbecue, and they wanted to move out as they needed a bigger yard. By the end of the barbecue, we had bought the house. It worked really well as they didn't need an open inspection and we knew we were buying it. We are still good friends.
Most people know I'm a good cook. A lot of food comes from my garden. I've got lemons, mandarins, apples, blueberries, raspberries and a huge curry leaf tree! Please come take my curry leaves. I can't give them away fast enough!
I retired in February this year, and my health improved almost immediately. However, I am never going back. It great to be able to have friends again. I fractured my arm two in May, and in the last few weeks since I have been out of the hospital, I've had cups of tea at home with friends who had dropped in. We went for walks and did ordinary things. I rejoined the library; I haven't had a library card in 11 years and our library is just lovely.
I can never imagine the houses here costing what they cost now. We have fancy cafes and a hipster barber, and also an amazing smattering of Indian spice shops, op shops and all things that make it special. People here are still very kind and supportive of each other, which is good.
The Sun Theatre was my – and still is – my favourite place to go. When I first moved here, it had no roof. Yarraville was dead before it opened and it only opened on weekends. I was there on the big opening night. Did you know, back in the 1930s, you could book your baby into the cloakroom and would be given a number? If your baby started to cry, the number would flash on the screen. No council would ever allow that now!