"I was born in Central, Hong Kong. I lived in one of those old-style Hong Kong houses: dark, tall and narrow with a tiny kitchen and no working toilets. My parents split up when I was about 2 and both remarried when I was about 5, they had two kids each and between the five of us, the largest age gap is sixteen. I feel almost like an aunty to my youngest brother.
After my parents split up I only saw my mum twice a month. I found it really hard at the time but I think it has shaped me into the person I am today. I feel like this experience has taught me to read people better as I had to constantly watch my steps without my mum as a safety net to fall back on.
I was never naughty in school, but was quite vocal. In Asian countries, you are more popular if you do well in school, I was mediocre academically but I had a lot of friends regardless. Living with Dad full-time, I would cry every time I had to leave Mum after my weekend visit. As a mum now, I can't imagine going through the same with my three-year-old daughter.
When I was about five, both my parents remarried. My step-mum was great. My dad was a taxi driver and carpenter, and never cared about my grades, I was very much left to my own devices until he met my step-mum. She worked in Hong Kong University, and would help me with my homework and made sure I worked hard. She put me on the straight and narrow.
When Mum met my stepdad (who is from Salisbury in the UK) all I could remember was this white man intruding on my time with my mum.  I couldn't speak English therefore I couldn't communicate with him. Looking back, I was really awful to him in the beginning. I just saw him as a foreign being and had to share Mum with him. It would have been really easy for him to turn around and tell my mum to leave me with my dad. But instead he supported my mum to gain custody of me at age 12 and to then move to England. We could have stayed in Hong Kong for longer as the ex-pat lifestyle my stepdad was living was pretty great back then but they prioritised my education. Instead of staying in Hong Kong until 1997, we moved in 1994 so I was able start secondary school at the beginning at Year 7 rather than half way through.
We moved to Cambridge. In my first year, it was tough as I couldn't speak English. I was in a local 'comprehensive' school and had to learn French straightaway as a requirement. This included German in the second year. It was a huge step for me. I remember trying to get out of learning French as English was already a second language for me but, fortunately, the school refused. I ended up doing French for 5 years and got a pretty good final grade (but have since forgotten most in the past twenty years)!
Luckily, since the education system in Hong Kong was so tough, the actual school-work in the UK was very easy in comparison. I was mediocre in Hong Kong, but was brilliant in England considering I couldn't speak English! Apart from French, I found everything else quite easy.
The friendship part was harder; because I went to a local school, everyone was of Caucasian/British descent and there were a handful of African descent. There was another half-Asian girl who was born in England. She looked slightly different, but sounded British, so she fitted in fine. I was the only one, completely Chinese, with a weird name and who couldn't join into any conversation.
One time, I was physically beaten up, and I was so upset when I got home. I knew I had to be tough and realised I had to learn English, FAST. From then on I watched English tv, read English books, and learnt as fast as I could to speak English well.
Funny thing was, I was watching Neighbours, Heartbreak High and Home & Away, not knowing they're Australian. At that time, accents weren't a concept to me. So, long before I moved to Australia, I was often asked if I was from Australia!
Within months I had picked up enough English, was conversant, fit in more, and the bullying stopped because I was able to defend myself (not physically but verbally).
At the time, Chinese people studying in the UK were generally international students, but since I had grown up in a local British community, I just hung around with British people and had only British friends. It was certainly interesting growing up as a teen in England, I was interested in makeup, but my eye shape, skin tone is so different from what I saw in magazines and from those of my friends. I remember trying desperately to fit in by looking like everyone else but of course that wasn't possible., There were definitely a few challenges as it just wasn't very diverse! When you're a teenager you just want to fit in and be the same as everyone else. As I grew up I became more comfortable in my own skin and started to enjoy the fact that I'm often the only Chinese girl in the room.
I studied Graphic Design at University, this is still my profession now and I never wanted to do anything else. I've always been artistic, I've enjoyed fine art and art history at school, but when it came to choosing a subject for university, I made the decision to choose an industry that has a clearer career path. Unlike the typical Asian family, no one ever forced me to be a lawyer, or doctor. Mum just let me do whatever I wanted. I was very certain about what I wanted to do; it was a very clear path.
After graduation I started working in London as a graphic designer for different design agencies for a wide range of different clients. In 2009, HSBC underwent a global rebrand and I was brought in as the Design Lead for the Asia Pacific region, in charge of Hong Kong, Singapore and Japan. The hours were horrid, and I was flying between London, Hong Kong and Singapore. As I was primarily based in London, the time difference meant I was in the office for a ridiculous amount of time. Burnt out, I was starting to consider my options. Luckily, the head office in Hong Kong very much valued my work and was willing to start looking at relocating me to Hong Kong. This was very much welcome as I had always felt like I had "unfinished" business in Hong Kong since I had never lived there as an adult.
At the same time, my husband Ben was asked by his company to relocate to Adelaide to help open the Australian branch of the engineering consultancy he works for. We made a call and decided to come to Australia instead. He came here with two desks in a shared office. Since then it has grown to over 70 people nationally, with offices in Adelaide, Melbourne, Sydney and Canberra.
When I told my boss in Hong Kong, they offered me a contract to work for them remotely from Australia. This arrangement lasted for about a year and a half. until I realised I'd lived in Australia for this long and have never worked in the Australian design industry! At this stage I started freelancing around my existing contract, and I was offered a job quite quickly at a branding agency which I took.
After a few years in Adelaide. I started pushing Ben to move to Melbourne, as Adelaide was beginning to feel a bit too quiet for me.
There was no movement for a while and I grew increasingly frustrated, I decided that I have to make the move by myself. I had found a shared house in Carlton, and let me tell you, it was a shock to the system living in a shared house again! Luckily, Ben swiftly made the move soon after me and we found a rental in Windsor. When we obtained our Australian citizenship in 2015, we decided to buy a place as we were thinking about being here for the long haul.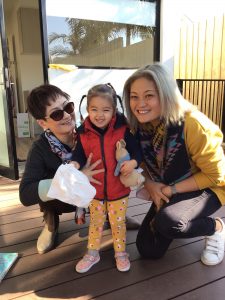 We were working in the CBD then and decided that the Inner West was a good location as it is an easy bike or train ride into the city. When Ben saw our home, he wanted it straight away. On auction day we'd had a big night out the night before. I didn't want to come as I thought we couldn't afford it and it would be a waste of time. There were loads of people on auction day, but somehow, we managed to buy our home in our first auction within our budget!
We knew nothing about Seddon prior to moving in apart from hearing that it is quite nice. In the first few years we were just travelling from work to home, and never really got involved in community things. It wasn't until we had our daughter that we've become more immersed into the community. Now I love it immensely and never want to leave!
Compared to the Julia living in London and in her 20s, I've mellowed. I see the importance of having a village around me, and friends who are nearby, and kids who can play with my kids. People here are way more friendly, and they actually recognise each other.
Towards the end of 2019 , I decided to start my own business. In a way, I've always knew that my industry is not geared towards mums. My hours have always been long, and in over 15 years in my career, I've only met a handful of mums: One is a business owner whose husband is the primary carer and the other three were part-time freelancers. After my daughter was born I freelanced part-time for a while and gained a post-grad in UX and Web design. But I realised that I wanted something more, I wanted to build something which I'm proud of. So I decided that I would use the experience I have gained in the corporate sector and give back. My business primarily focus on businesses and organisations that are trying to do better for the world, the likes of Not-For-Profits and businesses that balance purpose and profit.
Building a business during the pandemic had certainly been a challenge, but luckily I have had a steady flow of work so far. And I have also met a group of other business owners through networking who have very much kept me sane during lockdown! My clients trust me with my judgement and I am able to make my mark creatively. At the end of the day, I need to pay my bills like everyone else, but I feel like I'm doing something meaningful and don't dread getting out of bed in the morning!
On weekends, you can catch me in Pilgrim Street playground with my daughter, or at any of the cafes in the Inner West. Make sure you say hi!