My first book is a hardcover rhyming book called 'Exactly the Right Stuff' for kids aged two to seven. I wrote it as a personal passion project. I've been wanting to write since I was a little girl. Mum always encouraged me to write, told me I could be an author, and sent me out on multiple writing courses to try to motivate me.
I didn't believe I could to it, partly because I wasn't 100% sure what I wanted to write about. It was only after having a bit of a mid-life crisis after turning 40, and then being stuck in Lockdown #2 in 2020, that the idea struck me. I had just left a stressful corporate environment where, after giving so much of myself for 15 years, I felt completely unappreciated and full of doubt. I was going through some dark days and questioning what I was meant to do with my life. Then one dark day the idea for the book hit me out of the blue.
I wanted to help kids love and appreciate themselves and to accept the qualities they possess that we may label as "good" or "bad". I thought, if I can help kids accept themselves from a young age, how much easier would it be as an adult to do this innately?
I think the concept of self-acceptance is something some adults still struggle with; we are always talking about how we need to improve ourselves and looking for the "new me" instead of embracing the quirky and cool traits that make us who we are. So, while I wrote the book for little five-year-old me, I also wrote it for now me, age 42. But the people I want to reach are the kids, like my daughter, so that they can learn and accept from an early age that they don't have to be perfect – that it's okay to be exactly who they already are.
My daughter was five when I wrote my book. By then, I'd read her hundreds of books and I finally realised that I could do this … I could write a children's book. I had read so many children's books, I finally understood what children love to read.
Farts! (They feature in my book of course! Always gets a giggle).
It turns out my corporate experience of project management and marketing put me in a great position to write and publish a book. I treated developing and publishing a book like one of my business projects and used my skills to self-publish and market it.
As always, I worried. I worried that the book was crap and no one would buy it. But my husband said "You wrote this for you, so the most important thing is you write it and print it and try … Who cares if anyone buys it?" He was very supportive, and he totally got how important the book was to me.
In the book, I talk about various qualities that kids have, like being strong, sad, mad, clever, crazy, brave or scared. I never refer to any of them as being positive or negative, but simply as qualities that they might have. The non-judgemental aspect was important to me. These qualities are what make us human and different. It's taken me a long time to finally accept and embrace all my own qualities and I hope my book teaches children that lesson much earlier.
My dad was in the Australian Airforce, so we moved around every three years, living a military life in both America and Australia. Looking back, I can see how I developed quite a loud, outgoing and extroverted personality because I moved school every three years, and I had to sell myself to convince kids that they should be friends with me.
Kids can be brutal; it's tough being the new kid. I had to show them that I was fun to play with. I was a fun kid with plenty to talk about and imagination. I'd imagine other worlds and possibilities and I've passed that on to my daughter as well. However sometimes, I used to feel like I should make myself smaller and quieter… but nowadays, when someone says to me, "You are so loud, I could hear you from around the corner!", I say, "Great, it was easier for you to find me!".
I always loved to travel. So after traveling loads in my twenties and living in Ireland and London for a couple of fabulous years, I decided to move back to Australia and give Melbourne a go. I met my husband here and we lived in Fitzroy first, but we decided to move to Yarraville about ten years ago. I was told "Yarraville is the place people from Fitzroy go to grow up!". My husband's brother and family lived here, and I fell in love with the place. Now I'm not sure we could live anywhere else. We love the community here. I've made so many wonderful friends.
I fell in love with the Sun Theatre hardest of all. Honestly, dinner at Café Terroni, with an Aperol Spritz made by Joe, and then a movie at The Sun is my favourite night out ever! Movies and books have always been my escape. As a sensitive kid who took things way too much to heart, I used movies and books to escape into other worlds and to stop overthinking and worrying.
It's only taken me about 40 years to understand there will always be someone out there who's better than you at something! However, that doesn't mean what we each bring to the table isn't valuable, awesome, special or interesting, and that we all just need to try!
With all these things I keep learning as I get older, I knew writing one book about self-acceptance wasn't going to be enough. So I established my own publishing business, Exactly Books, so I can write and publish more books, all with the theme of positive psychology for children. They will be based on the lessons that I'm still learning; the conversations I am still having with other adults and the conversations I have with my daughter. I plan on translating these insights into entertaining and fun books for children using the language and images that are meaningful and engaging to them. I hope the adults reading them also get something from them. That would be the icing on the cake.
My next book 'Exactly the Right Time' is currently underway and I hope to get it out into the world in late 2022.
I am so grateful to now be at this awesome point in my life where I once only dreamed I could be. It took a lot of internal struggle to get here… I had to hit a low point to start imagining new options and see a new path. It took a lot for me to walk away from the stressful corporate world after 20 years and to stop thinking that was the only definition of success. As someone who always wanted to do their absolute best and be perceived as being really good at their job, I became a Yes person. I realised this put me in a vulnerable position and I needed to learn how to put up healthy boundaries. One day, after seeing me so flat and exhausted, my bestie said to me "When the flower is no longer blooming, you change the pot, not the flower" and my mind just went "BOOM"! I needed to stop trying to change me and change my environment instead.
After leaving my job with nothing but lockdown and home-schooling ahead of me, I was contacted by a small business owner who had worked with me in my last job. She needed some marketing expertise and said to me "you are exactly the type of person I need to do a marketing strategy for me." All it took was one update on LinkedIn, and it felt like it was meant to be! And so I got my first client. It gave me the confidence to start my own consultancy business.
Since then I've had many clients come to me through my network, and I've found my place as a marketing consultant for small to medium businesses. I love it! I have such an array of clients and projects to roll out for them. I have marketed products ranging from hardware to yoga therapy to professional athletes. There is never a dull day!
I have learnt so much and discovered what I am capable of! I love working for myself and engaging with various people along the way, especially locals in our community. I will never go back to the 9 to 5 (really 8 to 6?) life working for "the man" because it's only through this new lifestyle that I found a healthy balance as a professional, parent, partner, and individual that I couldn't sustain before. I can now do the school drop-offs and pick-ups, work from home, avoid the commute and the endless meetings, meet clients for coffee meetings in my yoga pants, and then join my friends for a work-out in the park, all without losing my mind. I've finally found the balance in life that I've been looking for, and it's bloody awesome!
I also wanted to say a big thank you to my bestie, Jeanie Watson, who has not only told me that I could do this from the beginning, but also contributed hours and hours of her time, to edit every word I've ever written. Thank you for letting me pay you in pot plants and Aperol spritzes.
'Exactly the Right Stuff' is a hardcover rhyming picture book, and can be purchased on www.exactlybooks.com.au for $19.90. Julia is offering free delivery within the local area or a Click and Collect option if you don't want to pay for postage. She is also super excited to confirm that her book just got added to The Younger Sun Bookshop website, link here: https://sunbookshop.com/books/listing/small-print-local-books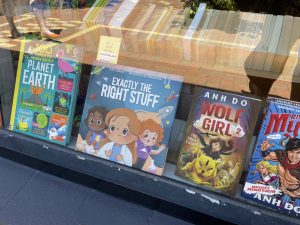 You can also connect with Exactly Books via Instagram and Facebook.
instagram.com/Exactlybooks
facebook.com/ExactlyBooks