Resident of Glenroy, Former international student
Small city beginnings
I was born in Sialkot, a small city in Pakistan. I arrived in Australia as an international student in 2005 to study accounting and finance. Along with my wife Dima and my two girls Mariam and Hadia, I now call Melbourne home.
I moved to Kuwait for schooling when I was young, and realised from an early age that I needed to pursue an education. In Asian countries, education is very important. You can be more skill-based in Australia, but in Asia you would require an education to obtain a proper job.
I had wanted to do something different and began looking outside of Pakistan to broaden my horizons. I remember looking at USA, Canada and the UK as United States is a world superpower, Canada is next door, and the UK has a colonial history in Pakistan.
Unfortunately, USA and Canada don't play cricket so much and while considering the UK, Australia became an option. It wasn't a typical option but I was very familiar with Melbourne, the MCG, and Pakistan winning the Cricket World Cup in 1992. 'That's it! I'm going to Melbourne,' I thought.
I didn't know what to study. By that time, I had been working in engineering and developed the belief that I could study anything and be whatever I wanted to be. I just didn't know what it was. I did some research on Melbourne and realised that if I did accounting, I couldn't go wrong. Accountants generally have good careers and have transferable skills. I could be an accountant anywhere in the world.
Carnegie, Victoria – January 2005
I got my visa, arrived in January 2005, and began my studies at Box Hill Institute. As I had a year to prepare for my trip, I reached out to some of my mates who were already in Melbourne. They had accommodation in Carnegie so it was easy settling in. On the day I arrived, they were at the airport to pick me up. I turned to them and said 'Can we go to the MCG first?' That was my first tourist experience in Australia.
I began making friends at TAFE and met people from many countries. It was a great experience having Japanese, Australians, Italians, Malaysians, and Singaporeans in class. I was a good student and started working in a pizza shop and factory.
I got to know a lot of South Asians as well and obtained a taxi license. Many of them were working in 7-Elevens or were security guards, but taxi driving appealed to me due to its flexibility. The other jobs had lower pay, and the working hours meant I had to compromise my studies.
After six months I had a good network of friends, was doing well in TAFE, and was making enough money to meet my expenses. I began looking for a social activity and noticed that at TAFE, they had flags from different countries but not the flag of Pakistan. I suggested putting it up and offered to help out where I could. This set the tone for my following years in Australia.
The Pakistani community at the time was a small group that was gradually growing. However, I noticed that they had no support. A lot of Pakistanis that arrived here in Australia were mistreated at work and ripped off.
I thought, 'Maybe I should do something for the community?'
I formed the Pakistani Students Association of Australia in 2009. It is now 40,000 strong. I used the association to get involved with international students, organising BBQs and cricket games.
Around this time, there was a spate of attacks against Indian students in Melbourne, and I got involved with advocacy groups formed by international students. I didn't know it then, but I was developing a taste for community and social work.
Before I graduated in 2008, I was already getting job offers in Melbourne as I was doing quite well at Swinburne University. However, I had not gone back to Pakistan since 2005 and told the recruiters I would be back after a holiday.
Upon returning, the GFC happened and those jobs were no longer there. I ended up back in taxis as I couldn't find a job. However as I wasn't studying anymore, I got involved in more community work.
Looking inward
Somewhere along the way, I began questioning my identity as the anti-Muslim sentiment started to grow in Melbourne. I never truly 'noticed' that I was a Muslim until I got here. Most people in Pakistan are Muslim. No one talks about it.
However, my passengers would ask me 'Are you a Muslim? Why do you want to kill us?' And I thought 'What are you talking about?'
I felt a lot of misconceptions go both ways. Western cultures are so dominant, so arriving in Australia I already knew what to expect. The Muslims I know don't hate other people. They are not here to take over the country and just want a better life for themselves and their families. I felt like I had a purpose in Australian, and I had a role to play in bringing people together.
People were questioning my identity on a regular basis. It's easy to say 'I'm a Muslim' but do I believe in it? I found more about myself and came to the conclusion that I am Muslim, I am proud of it and I am proud of Australia. I won't forget my roots, and we are mutually compatible.
Once I got to that conclusion, I became serious about community development. I enrolled in ANU in Canberra to pursue a Masters of International Relations, specialising in Peace and Conflict. As I didn't have an Honours, I wasn't eligible however I managed to convince ANU to let me in, subject to securing a scholarship. I had to move to Canberra. Needing money, I found myself driving taxis again.
Unfortunately, I wasn't able to secure a scholarship as I wasn't a Permanent Resident of Australia. While, in Canberra, I got to know a lot of people there and I was driving a lot of politicians and public servants around, I started developing an understanding of policy development.
As I continued my job hunting, a recruitment agency said to me, one day, 'You have good people skills. Why don't you work in HR, instead of being an accountant?' I still think to this day, about what my career would have been like had I taken up that offer. I could have helped so many migrants and other people find jobs but I am happy with where I am today and still helping people so it worked out well I suppose.
I returned to Melbourne and began driving taxis again and in the meanwhile kept looking for an accounting job without much luck. Things really started to look up when one day, I found a job on Seek. Cricket Victoria and Essendon FC were advertising for someone to introduce cricket and footy to international students.
Sport brining people and community together
This was a job made in heaven. I was thinking 'Why is this even a job? I would have done it for free!!'
Cricket Victoria had a partnership with Essendon Football Club. The role was to introduce cricket during summer, and footy in winter. It was a three day a week job. I remember getting the call with a passenger in the taxi. I told the passenger this was an important call and pulled over in the freeway next to Essendon DFO.
I took the call and didn't get the job! However, they were really impressed with me and offered me a role to help the person who got the job. I thought about it and said 'Yes.'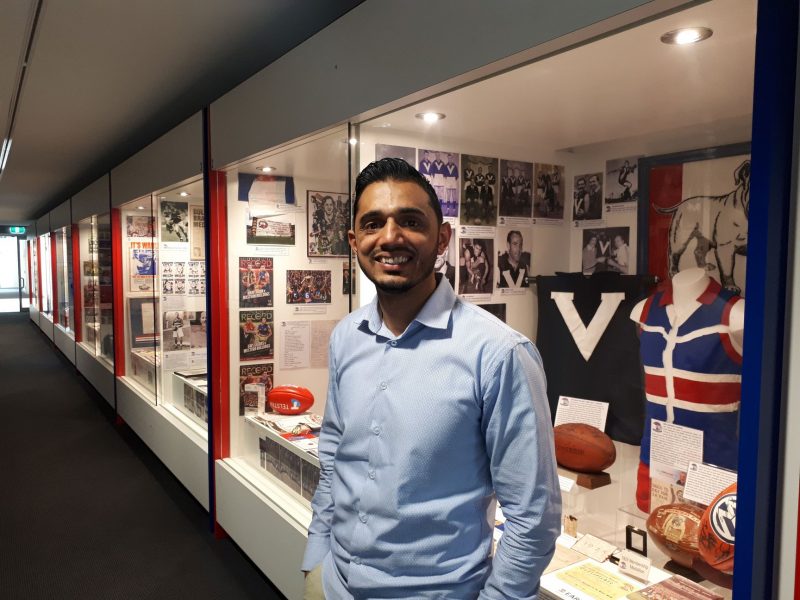 Two days later, Essendon FC called me and said the other guy pulled out. I got the job.
Now, this was in 2010. Until then, I still knew nothing about footy. The only thing I knew about was Kevin Sheedy and Bachar Houli. I began to use my passengers as a tool to learn about footy and asked them everything that was footy-related.
The funniest thing happened one day. I had to promote AFL to some international students. As I didn't know much about football, Essendon FC had organised for a football person to help me out with practical activities. On the day, that guy didn't turn up. I somehow managed to set up the handball target and began showing students how to do it. The thing was, I was literally throwing the ball to the students, rather than handball. A teacher came to me and said 'Why don't you show them how to handball properly?'
I was thinking, 'Is there another way?!' but I managed to talk myself out of it. There were a lot of moments like that when I was well out of my depth but managed to work my way through.
Until then, I was still driving taxis. I was learning about footy and began reading up about Essendon FC, AFL, who is winning, the key players, and everything I needed to know. I was also still engaged in community work. I was in temples, churches, community groups, and different universities and TAFEs, convincing everyone to come to a game.
All this was done in my own time. I didn't realise it then but my superiors could see the difference I had made to the role as attendance had significantly increased. It was manic.
Cricket to Aussie Rules
Six months into the role, another community role at Essendon FC became available. I wasn't interested in it as I didn't even know how to play footy and this was a very hands-on role. I didn't apply for it, as I didn't want to ruin a generation of footballers by teaching them dodgy skills!
Essendon FC however, was very kind and restructured the department and gave me the role, but had another person do the core footy stuff. I found myself getting busy, handling the coordination and relationship aspect of Essendon FC. Anything but actually rolling out the ball. I remember the first time I had to develop a lesson plan, I had to consult teachers and stand in front of the mirror, practising what I was going to do. I was nervous standing in front of kids!
In 2012, the role of AFL Multicultural Coordinator came up. I applied and was successful in securing the position and began developing my footy skillset. This was also a full-time position. Teaching is different from actually knowing how to do something. I can't kick a ball, but I can teach you how to do it. Until then, I was still working outside of work and getting engaged with community work.
As a sports person, I had already appreciated how football can strengthen communities. More intrinsically, I am a community person. Bringing people together is what drives me and I found my role incredibly rewarding. I moved from AFL Victoria to the AFL and had the honour of working across both multicultural and indigenous portfolios in different capacities. While I was really enjoying myself, I knew that my next role had to be more community-based and possibly outside the AFL industry.
My current role at the Western Bulldogs is perfect for me as I didn't have to leave the AFL industry but also have the opportunity to work at an organisation that has the community at its core. It's a challenging job professionally. I find if I am not challenged, I am no longer motivated.
Another important aspect was how it would bring me closer to the community. It really appeals to what I believe in. At AFL it is more about game development and a national impact. Over here, it is more about creating a better community through deeper impact with a massive focus on the western suburbs of Melbourne and western Victoria.
On a lighter note, I can actually claim to have represented Pakistan playing footy in the AFL International Cup. I had helped out running the competition when teams from all over the world came to compete in Australia in 2011. I realised Pakistan wasn't represented, so took on the challenge to educate the entire Pakistani community on the game. I formed the Shaheens Sporting and Social Club, the first ever Pakistani international football team in Australia, by building a full footy infrastructure and running sessions for the entire year. We played in the 2014 competition, won the inaugural friendship cup game against India and came in 12th in a league of 18 nations, so we didn't fare too badly!