Kristy Busuttil, resident of Altona, mum of three, professional arse kicker, business owner of jeongsin taekwondo
"Statistics say taekwondo is the most popular and participated martial arts in the world. It became an Olympic sport in 2000, where Lauren Burns (who's an Inner Westie too!) won the first taekwondo gold medal for Australia.
I've always been in the inner west. I am the oldest of two. My brother Sean is seven years younger. I was born in 1983, and grew up in Footscray. My first house was where Gilmore College for Girls (now Footscray Learning Precinct) used to be. If you look from Geelong Road towards the school, there's a gate. That used to be the gate to my house. My parents were the cleaners and caretakers of the school, and always have been, even before I was born.
We were there until I was eight, when Jeff Kennett came in, and changed people's jobs and contracts. My parents lost their jobs and we had to move out of the house. They bought a house in Pitt Street, West Footscray, and Dad went to work for Viney Sales in Footscray. It was a cleaning supplies shop at the time. When his boss died, somebody took over, but nobody liked him. Dad took over the business and relocated to this iconic spot at the corner of Ashley Street and South Road.
If you're at the traffic lights there, you cannot miss it. It's called G&C Johnson Cleaning Supplies. That's the name of my parents – Gary and Christine.
Gilmore College was then known as Footscray Girls. The school was my backyard, and I could go anywhere. Everyone knew me. We had three dogs, and I'd always have my dogs with me. Sometimes we'd open the gym and one of the portables on Melbourne Cup day, and put a little BBQ in the classroom, and go abseiling in the gym. I'd get the trampoline out, do gymnastics, climb on the roofs of the upstairs classrooms, and over the library.
I used to stand there, and look out over Footscray. It was really cool stuff.
When I finished primary school, naturally I went to Footscray Girls. All the teachers who taught me had known me since I was born. They used to hold me when I was a baby. That is so trippy.
I got into taekwondo when I was eight. I started at the YMCA and remembered Mum taking me there for my first class. I was wearing black bicycle shorts and a Jurassic park t-shirt. My first instructor's name was Matt, and he was full-on from the get-go, with old school training. Mum had taken me there as a cousin was doing it in Yarraville, and I think she'd always wanted to do martial arts, but never got into it.
It was just a sport that I was doing, but somehow I got my black belt when I was 14. I remember there weren't many females in the sport then. It was always male-dominated. All throughout primary and high school, girls did netball, and boys did soccer or football.
I was like 'Stuff this, I'm going to try for the soccer team. They were wondering if it was allowed.' I was one of the first girls to play for the soccer team, and remember getting a few looks at the interschool competitions.
I had a few boyfriends growing up. I definitely had my wild times, but after a while, I stopped telling people I was doing taekwondo. It intimidated people, and some couldn't get passed it until they got to know me.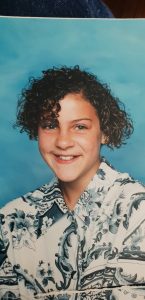 I had one boyfriend who became abusive once, had too much to drink and tried to overpower me. Now, this is something I talk a lot in kids and women's self-defence class. He knew I knew self-defence, but it didn't stop him from trying to belt me. He was pretty well built, but I don't remember what I did to him. All I can remember was, my instinct kicked in, and the next thing I knew, I was in the car, driving home. I never heard from him again. It's important to be able to defend myself.
After coming home from the Commonwealth Games in 2006 with a Gold and bronze medal, I realized I didn't want to compete anymore. I wanted to share my art and knowledge with other people. If you asked me what it was like winning the medals, I'd say, I remember more of me walking around the stadium, walking behind the Australian flag. It was a really moving experience, and something I won't forget.
It was a constant struggle since I opened. Being female in a male-dominated industry, I always had to prove myself. Once, a guy came in with his son. He went 'Where is the master instructor?'
'That's me,' I said happily.
He looked at me up and down, grabbed his son and walked out. Seriously, are we still like this?
I thought, 'Just give me five minutes on the mats. I know my stuff.'
At that time I had trained for over 20 years, and it's still the old school stereotype about what a martial arts instructor is.
Recently it's gotten a lot better. There are a lot of female business owners out there who are mothers, and there's a girl-power vibe among us. The majority of people coming in are just real people and aren't looking for elite, Olympic training space. These are just real people having fun, wanting to learn traditional styles of martial art. There's nothing fancy about it, with no bells and whistles.
When I took up taekwondo, there were no girls in my class. The instructor treated me like one of the boys. I've carried over the mindset to my class, whenever we bow into the Dojang we aren't guys or girls all equal and all capable of the same things. Women can do everything if we put our minds to it.
I was single when I thought about starting my own club in 2010. I had already met my husband Matt by then, and we had our first child in 2011. He's been very supportive of what I do, which is good. There was a period where there was a lull, and we were struggling to make rent payments here. After all this time I've only recently been able to pay myself a wage.
I originally opened up at the YMCA and built it up from there. It was hard. My struggles were being new to the industry, and having competition for awhile. The female thing was holding me back, and I had this mindset where
I felt like I need to prove myself. After a while, I thought, why am I fighting it so much? Some students and parents even came to me and said, 'Because you're female, we come to you.'
Up until I opened my school, I was working as a medical researcher for seven years. It was my straight out of uni job. I was an animal technician and worked with mice. We'd use them for research purposes. I worked for a lab that investigated breast cancer, and I injected them with genes that would cause them to develop tumours. We would harvest the tumours to develop vaccines.
It was all doom and gloom.
I did a Personal Training course while I was working there, and started working in a gym. All the time, I was running a dog-grooming business at the same time. There was one point in my life, where I was working in the lab, going to school, had a dog-grooming business and also my taekwondo business.
In 2016, we welcomed our beautiful baby girl Scarlet into the world and wow how she has grown into a feisty little version of me… curls and all!
In 2017, Matt had a stroke. I remember that day. It was a Saturday morning, I was grooming a dog, and he was at home with the kids. I got a call from him, and I heard the tail end of our conversation. He had collapsed on the floor. I was flying down the freeway, calling my neighbour and the ambos. The ambos got home to find Scarlet in the bath, with Matt slumped over the bath. He was holding onto Scarlet, ensuring she didn't drown.
They didn't know it was a stroke for two days, as it didn't present itself the usual way. Matt was in the hospital for two days, before they worked out he has a hole in his heart. The blood clot had gotten into his brain. I sold my dog grooming business and decided to focus my energy on Jeongsin.
After all this, we conceived our amazing little surprise, Owen. With all my three kids, I was the master instructor and taught my students all the way up until full term. I was back two weeks later.
Parents enjoyed coming in while I was pregnant. They were whispering 'You sure she's alright? Oh wow, look at that! She's kicking!' It's inspiring for people.
Jeongsin means 'The Spirit of'. I wanted something traditional, a name that meant something. I could have called it 'Kristy Taekwondo', but it wouldn't have become a part of your spirit. I want to help people learn and grow, for the skills here become a part of you for the rest of your lives.
In 2020, I just want to share. So many people make excuses not to try something new, and do something for themselves. I want to inspire a lot of women, to learn how to defend for themselves, and look after their kids. I want to show my daughter Scarlet, that Mummy can do this, and so can you.
I have a Kmart and Bunnings addiction. I'm not girly-girly, but the one girly thing I like to do is to get my toes nails done. I like having sparkly nail polish when I'm kicking some butt!"