"My parents arrived in Melbourne in 1967. Both originate from Greece – Dad came here for a holiday, and Mum flew in for a new beginning. Their first and only home is in Flemington. They had only known each other for three weeks when Mum received a telegram asking her to go home as her father had promised her hand in marriage to a local wealthy village boy.
Dad was not having a bar of it so they got married in Melbourne instead.
I am the oldest of three sisters. My second sister Penny is more famous than I am. She's the lip queen, the Botox lady, and has a business based near Chadstone. Paras, the younger one, spoils me with massages. I was born at the Queen Victoria Hospital in 1968 and grew up in Flemington.
It was obvious as a baby that I had an eye turn, 'crossed eyes' or 'lazy eye.' I've had three squint surgeries, two before five and one at eight years old. I needed glasses as a toddler.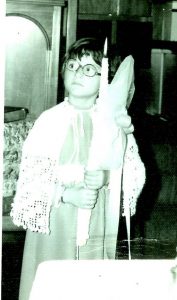 My dad was the sole breadwinner. He always gave his family everything they needed including the best eye doctor and surgeon. Practicality and affordability always won over fashion and eyeglasses choice so I was the kid in the class wearing the weird Dame Edna glasses.
I didn't speak English, and Dad worked in a factory. Dad grew up in poverty and always said to me 'You either work in a factory or study.' I chose to study. I went to Flemington Primary and Mount Alexander College. Life was hard as an immigrant. I used to get picked on a lot. Names like 'four eyes' and 'wog' no longer pain me.
Due to my eye problem, I wasn't into sports and had poor hand-eye coordination. I was also a nerd (it's cool, trendy and you're considered smart if you're a nerd now), and I am proud to say I haven't changed.
When I was 16, Dad let me choose my next pair of glasses. They cost him about two weeks worth of wages back then. When I picked up the glasses, they were revolting. They were an ugly lilac colour with very thick lenses that attempted to change colour in the sun. Definitely not what an uncool, four-eyed immigrant teenager needed.
I was disappointed that my optometrist had not guided me better. Both Dad and I were devastated.
I promised then, that if I could become an optometrist, no one else would go through what I had experienced.
I did a Science degree at Melbourne University but realised quickly that's not what I wanted to do. Experiments were not for me, so I continued on to Optometry. I graduated in 1991.
While I was in uni, I met my husband Andrew in 1988. He was setting up his own fashion brand in menswear clothing, but was, by trade, a teacher. We got married in 1993.
Our first home was in Laverton. We had purchased a block of land but couldn't afford to build so we rented instead. Our firstborn Emma was born in 1998. Eventually, our home was built and we moved into Williamstown in 2000. Our middle child, Demi was born shortly after the move.
Eight years later we had our surprise. His name is Andrew who also needed eye surgery at the ages of three and more recently at ten years of age, as he developed an eye turn too. I went back to work within six weeks of each birth.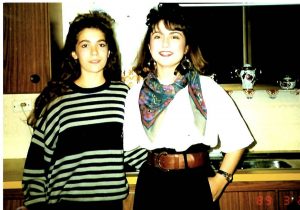 I loved my work and didn't mind travelling between Geelong and Ballarat for work while living in Melbourne. I was working for other people, making sure I could prescribe what I wanted, without having the pressure to sell.
I found myself dealing with kids all the time. Optometrists would send kids my way. I didn't know it then, but younger kids seem to be hard to test for many optometrists.
I enjoy kids and find them easy to deal with. They just need to be treated like 'little big people.' They all have something to say whether they are three months or 18 years old, whether they are on the autism spectrum or have global delays.
They just need to be heard and acknowledged. As my children got older, I wasn't able to travel to Geelong and support them through the tail end of year 11 and 12 at the same time.
I decided to find casual work in Melbourne and applied for a children's optometrist job that was advertised. I didn't even know if this was for me.
Only a month in, I knew that this was my niche. Women don't normally 'brand themselves' but I was an optometrist with a special interest in paediatrics. At this stage though, I was still working for other employers.
One Thursday afternoon in 2014, my Andrew happened to be picking up our little boy from school in Williamstown and saw a space available for lease in The Office.
'I found an office for you,' he rings and says.
'We could try your own', he says, 'by starting at two days a week.'
We got the lease.
We've never looked back. I started with two days there, and going I kept increasing my days till the now six days a week. It soon became clear we had outgrown The Office and needed to move to a bigger premise.
We were sharing a space with other businesses, and with kids, we became too loud. Andrew and I began looking for a new place in 2016.
We moved to Yarraville in November 2017. We have continued to grow our patient base with families from all over Melbourne, the country and interstate. They come from as near as Airport West, Kew and Brunswick, and as far as Bendigo, Shepparton, Echuca and Karatha, WA.
We offer something not many optometric places offer, a kids haven that cares for them in a safe, non-threatening and fun environment. Our practice stands proud and tall on its own.
It's not in a shopping centre, not among shops, without a bank or supermarket nearby. It has easy parking, and people can find us easily. The space is big and kid-friendly.
We believe we have thought of everything and done it to fit in with the kids. The murals, space and toys, that's what makes kids happy. Everything we have here is for the kids.
Our unique way of testing kids is what makes us different too. If I have to lay on the floor or test kids in the waiting room then bring it on! We try to make it work for every kid. I'm still humbled and honoured at the referrals and awareness of who we are. People just come from everywhere and they trust us with their families needs.
If I can't help them, we certainly guide them to someone who can. If a child has a learning difficulty, we will try to solve it. We still get goosebumps everyday.
80% of what we learn is through vision. One in four kids has an undiagnosed vision problem that affects their learning. Much too often, children that are tired, angry, frustrated, or may have speech difficulties, are shy, or have tummy aches may have an undiagnosed eye problem.
One of the most memorable experiences I've had was in my first year of uni. I had no experience and was based in Corio. A grandmother came in with her grandson. She said her grandson was going to be kicked out of school, and no one wanted him.
I told her, he had 20/20 vision, but he needed reading glasses. They changed the world for him. He became an A+ student.
Kids should be seen as a whole, and not as a set of eyes. If you invest the time in your children's medical needs early then it can avoid unnecessary learning hardship.
Our plan is to grow and be able to facilitate and help everyone. We are open Monday to Saturday. On Sundays it's family time, we like the beach or movies. You'd always find my family at the Sun Theatre.
I also love shopping. Thank goodness Chadstone is open until 9pm on a Saturday. We also love taking our dog for a walk. You can also find me at Prince Albert Hotel for dinner.
Kiddies Eye Care, Yarraville and staff? They were never on my radar. They were never in my life plan. We have wonderful staff including a couple of locals, an ex-teacher, an amazing Dispense who travels from Geelong, an Orthoptist, a law student, who all have one thing in common – they have time for and love kids.
I am also blessed to also have the support of both my daughters who often pop in and help out.
Emma is now almost 21. She's a STEM student and is pursuing engineering and commerce at Monash University. Demi is 18 and is studying medicine at Monash as well.
She's smart but not as smart as me. LOL. Our youngest Andrew Jr, well he's just a kid.
Kiddies is a home away from home yet a fun place to be for all our visitors who always walk out with that famous lollipop!!
Just like John Ng did."