"I was born in Jaipur in north India. The funny part is, I don't know which year I was born. Back then, we didn't have birth certificates. My mother said I was born in 1960, so I think I'll be 59 this year. However, it changes every time I speak with her. If she wants to feel younger, she changes my date of birth and I become younger. This is common for people born in India back then. I was born at home; the midwife came in, my mother gave birth, and that's it. Then as a child I was given an official birthday for school entrance reasons, which makes me one year older than my mother says I am.
I am one of five kids. There were three boys and two girls; I'm the fourth child. Mum and Dad had a love marriage, and ran away to Rajasthan. Dad passed away about five years ago. His name was Rishi Kumar Mishra. He was a journalist and politician, and he was one of the brains of India. He was a Member of Parliament, and was the Editor-in-Chief for an English newspaper, The Patriot, before moving on to The Observer.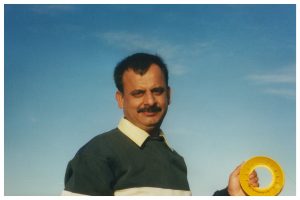 I was a notorious boy in my childhood. I was the black sheep, didn't study much, but loved cooking from around the age of five. I was always in the kitchen, spending time with Mum. Mum is from West Bengal. Her cuisine, compared to Rajasthani cuisine, is totally different.
So at home we used to eat Bengali-style food, which uses fresh herbs and a lot of fish. Whereas Rajasthan is a desert area, where between the months of April to July the temperate is about 44 degrees Celsius on average. So it's not possible to grow many vegetables. People use mostly dried vegetables such as beans. Mishra's Kitchen is my way of connecting both styles of cuisine from my mother's area and from Rajasthan where I grew up.
When I left school, I wanted to be a doctor but my parents said, 'No, be an accountant.' I hated it, but still graduated with an accountant degree in 1982. I don't actually do my own accounts. My wife, Vyvyan, does the book-keeping. (She doesn't like it much either!)
Four years after I graduated in 1986, I came to Melbourne and found work in local restaurants. My first restaurant job was in an Indian restaurant called Sandos in Brunswick, where I spent about three years. The gentleman who owned Sandos had another restaurant in Richmond, called Maharani. One day, he told me he was finding it difficult to manage both restaurants, and he wanted to sell Maharani. He asked me to go into a partnership with him, but I thought that if I worked independently it would be better for me. I bought the business in 1989 and ran it for 10 years. It had 130 seats, and the kitchen alone was as big as the whole of Mishra's Kitchen restaurant! It was a good time overall, and the restaurant even survived the recession.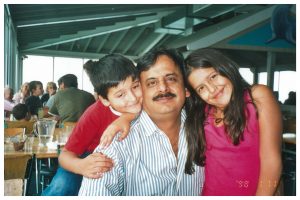 In 1990, I met a Melbourne lady and we started seeing each other. We were together for nine years, and we have two kids, our daughter Geetanjali and son Rishi. Having small children made my restaurant hours a bit difficult for the family. One day when Geetanjali was 3 she turned to me and said: 'I don't see you much as you're not home. You don't come to my creche.' She's always been very articulate. So in 1998 we finally made the decision to sell the restaurant. I had a choice to spend time with my kids, or continue working nights. You cannot bring back time lost with your kids as you need the connection.
After selling the restaurant, I decided to go back to study, and I did a Bachelor of Community Development at Victoria University. In the first few days of uni, I had to introduce myself to a roomful of 19-year-olds. I was over 40 then. But everyone was very friendly and helpful. English may have been my second language, but I managed to complete my Bachelor's degree in two-and-a-half years.
While I was studying, I did dishwashing and taxi-driving to pay the bills. I have always worked, and have never given myself time to relax. But I always enjoy whatever work I do. I also really enjoyed studying at Victoria University. I actually would like to become a student again, as I met a lot of good friends there—many who are still my friends today—and I love learning new things.
While I was studying for my Bachelor's degree, my partner and I separated. I needed to find a new place to live, and I remembered visiting Williamstown a long time ago and how much I liked it. It felt peaceful and relaxing. So I moved into a small flat in Williamstown, and my kids came to stay with me for half the week. My former partner and I had a good understanding of sharing our time with the kids and we both always put them first.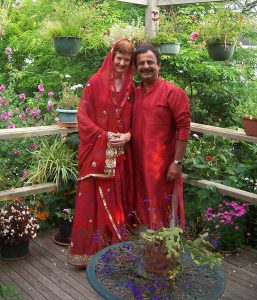 In 1992, while I was at my sister's wedding in India, I met Vyvyan. We were just friends, but some time after my separation we started going out together. After a year, I introduced her to my kids. The kids were in primary school then and took it well. My former partner and Vyvyan are actually good friends, and we do everything with the kids, including celebrating Christmas and birthdays together. By the way, the "kids" are now 24 and 21 years old!
When we got together Vyvyan had a place in Montmorency and I was in Williamstown, so it was a very long drive on the Western Ring Road to see each other. In 2004 we decided to look for a place together. The best thing between us is that when we decide on something, we make a decision based on how we feel and that we both think is right. First, we looked in the Eltham and Carlton areas, but we couldn't afford a house in those areas. Yarraville was a bit of a compromise and also was affordable.
The European owners of what is now our home in Yarraville liked to paint their walls in really strong, dark colours like dark red and blue. But despite that, our feelings told us this was the right house for us the very first time we saw it. Then we brought the kids to see the house, and they liked it too. Then we told the agent we were interested. The vendors had been sitting outside the house and watching people come to look around. They told the agent they wanted to sell it to us. Another couple had offered $5,000 more than our offer, but the vendors knew we would take care of their house, which they loved. We moved into the house in September 2004.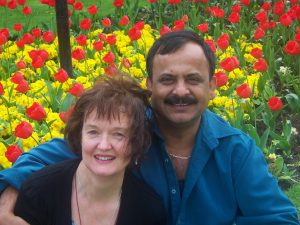 During this time, after graduating from Victoria University, I had a job working with intellectually disabled kids in a house run by McKillop Family Services. After four years there I became a Child Protection Officer in the Department of Human Services. That was quite a stressful job. I'm more of a prevention person, and I'd like to do something to help before the situation for kids gets really bad. So I felt a limitation in what we could provide and that caused me to feel frustrated and stressed.
So I began to think about opening a new restaurant, but made that move only when my kids had grown up to a stage where they were okay with the restriction on family times – they understood that I would be busy at weekends and that family holidays would only occasionally be possible. In 2012, when both kids were in high school, they told me they are ready for me to have a restaurant. Geetanjali even offered to work with me. We looked around along Wembley Avenue and were almost ready to buy what is now Cup & Bean café. It used to be a vegetable shop. But the owner then was asking more than I was prepared to pay for that premises because I would have had to install a complete kitchen, storage area etc, which would have made it very expensive to set up.
Then that vegetable shop owner suggested I talk to the owner of the café next door. When I walked into the café, I had a very positive feeling. The business itself was not thriving, but the setting was good and there was a small kitchen. The whole idea of starting a restaurant again was to keep it small-scale, unlike Maharani in Richmond. So Mishra's Kitchen started out as a takeaway restaurant. We only began offering sit-down options when local families came in, asking, 'Can we sit down and eat?' After some time, I obtained a liquor licence.
Mishra's Kitchen began with just three staff – Geetanjali, myself and a dishwasher. Now, seven and a half years later, the restaurant employs seven staff.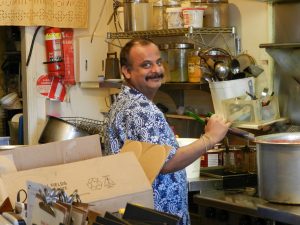 Here's something interesting. We wanted to call it Sanjeev's Kitchen, but somebody in Victoria had already registered the name. Later, we felt Mishra's Kitchen sounded better than Sanjeev's Kitchen, and many people just call me 'Mishra' now. Everything happens for a good reason. Locals call me Mishra as well. Sometimes I even forget my name is Sanjeev!
I've seen a lot of changes in Yarraville. Younger people and couples are moving into the area. Some of my first customers still come in to eat. Now some of them have kids, who go to the primary school across the road from my restaurant. It's a local, family-friendly restaurant. That's the whole idea of Mishra's Kitchen. My passion is food and kids. All my staff, they love kids. We are happy when parents and children come in and eat, and we don't mind if the kids drop rice all over the floor!
When I cook, I put my love into it. When I do, I know it will taste nice. And 99.99% of the time we don't say 'No' to our customers when they ask for special dishes. We will happily cater to the request, as long as we have the ingredients. And of course, we always can cater for people who have allergies, and for people's spice preference.
I love Yarraville. As I've always done things based on feeling, I felt a real sense of community even when we first moved in here. That kind of feeling is what I enjoy. When people find my food tasty, that gives me a buzz. When I go out on the streets, I know people. Some are new customers, some are regulars. And when something happens locally, we all come out and help each other.
I have no plans to make Mishra's Kitchen any bigger. I don't want to lose the personal touch. I like the fact that we have an open kitchen so that when I am cooking I can talk to my customers. The personal touch is important. I don't do anything without feeling. That's my philosophy in life. Even when I did dishwashing, cleaning or taxi-driving, I did it with feeling.
My family and I really enjoy life in Yarraville. We often go to local cafés or restaurants to have a coffee and/or a meal, and we love going to the movies at the Sun Theatre and sharing a small bottle of champagne there!"