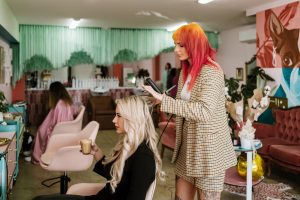 "I'll be celebrating nine years clean and sober this Friday 24th September. Guess I've spent the last 29 years discovering who I am! I come from a dysfunctional family and learn I wasn't nurtured as a child and my basic needs were ignored. I've had a toxic relationship with drugs, alcohol and things that made me feel okay in my skin.
I never felt good enough nor worthy of love.
Becoming a mother was one of the most healing phases of my recovery. I've learnt how to love, and heal by giving. I never knew that would part of my experience. I was really scared to have kids. Recovering is taking responsibility for my life, for my beliefs, and the way I see the world.
My business has been a huge part of it too, as I had to work my way around limiting beliefs about money, and I've learnt it's responsible to pay my taxes.
My dad used to tell me not to pay my tax and dodge the system. Now I have the freedom and realise if I pay my taxes, I'm looked after, and my community as well. It's taken a lot of faith to live another life, and I also don't go to my dad for advice anymore.
I grew up wishing my parents would split up. I don't remember a lot about my childhood, but I knew I didn't feel safe. When they split up, it just got worst. As a teenager they were either in fight or flight of looking after themselves. They were both were in toxic relationships and alcoholics.
I was doomed from an early age.
I left school in Year 9; hairdressing was a gap for me as I had no other direction, and it was a great distraction and pathway. I felt like an adult in a child's body and didn't connect with anyone in school as I felt I had to survive.
I'm the middle child, and had been manipulated to live with my dad, and was given 'Responsible Freedom'. I got what I wanted, but what a 14-year-old needs are strong boundaries and love. I now know that is healthy and appropriate, even for my son.
I didn't even know what my boundaries were in my adult life. In my business years I've been in a foetal position many times. My tendency is to put the world before me. That is my superpower but can be unhealthy too. I think outside of myself, and I think of my community. I think of my team, my clients' needs, I prioritise their needs and I now know the importance of listening to people and hearing what others are saying.

I'm an exceptional communicator as I've got the darkness and I've also got the light in my life. I can spot a pathological liar and have spent the last nine years practicing the opposite of that. I pride myself in spiritual values, honesty, humility, compassion, and have spent nine years unlearning my coping mechanisms.
During my apprenticeship years, I was very distracted, acted irresponsibly and partied a lot. My boss would say to me "You've got so much potential" but I just didn't know how to focus on those things. I was looking for ways to feel better, and found that in the night club scene, and a home with people who weren't necessarily healthy to me.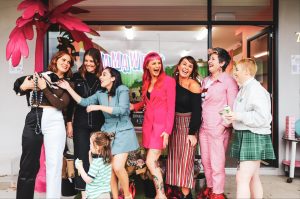 I was introduced to all kinds of party drugs, and it was a quick downward spiral to psychosis, and I burnt all my bridges with my friends & family.
I still somehow managed to get one of the best hairdressing jobs in Melbourne in Rakis on Collins. It was one my greatest achievement. It was my skillset that got me the job, but my behaviour lost me the job quickly.
I couldn't keep the façade about how I felt on the inside, and the second I started losing things, I was in denial and didn't know drugs were the problem. It wasn't until psychosis hit, and I began hearing voices that weren't real.
All this happened when I was 20.
I was involuntarily admitted into the mental health and psych ward. People there were generally crazy. I knew I was unwell. I knew I was insane but knew I didn't belong there. I was there for seven days, and after that my best friends mum – who was a drug dealer – saw that I needed help. Shortly after, I was in rehab.
It was a bit of intervention from the universe. I was in rehab for 18 months. I celebrated my 21st birthday sober and haven't drank since.
I felt I had something to prove and a chance to redo my life and make it worth living. I remember wanting to quit hairdressing. If I didn't use drugs, I don't feel creative, and it was a lie I told myself. My good friend of now 15 years Sarah Fellowes – who had abandoned me when I went on a different path – had opened a hair salon, and I was six months clean then. She invited me over, and I worked there for two years.
I have now since, invited Sarah to come work with me, and I have offered her a job for front of house, but not doing any clients' hair as she was looking for a change.
The work I do is healing and validates what I do. I now have a focus of service that drives me to give to the world. I really think it's that light around my values that is attracting people to me. I'm bringing innovate ideas here and thinking outside the box and people are knocking at the door! I've always wanted to grow collaboratively and work with business owners.
I'm still a rebel at heart, but for the greater good. How can I push the boundaries? How can I change the landscape of hairdressing in a positive way? That's how I've put myself on the map.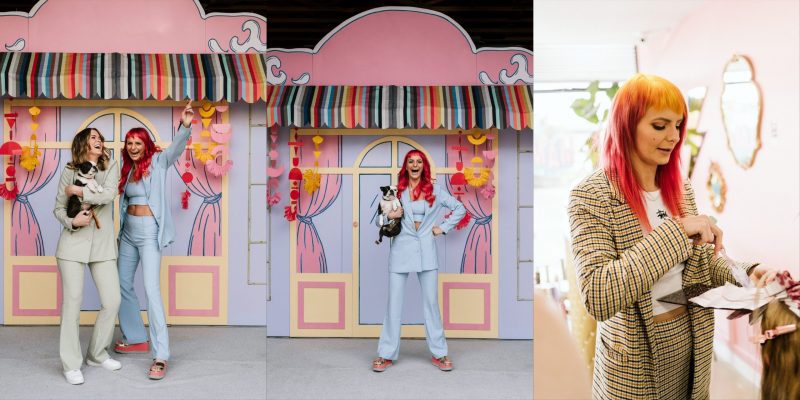 I connected with the City of Maribyrnong, and the mayor Michael Clarke cut the ribbon of our shop on our opening day. I don't know any salons who's had that. I suggested everyone along the street join in the official opening and shine a light on where we are. That's why the council was involved, as it wasn't for the benefit of one business, as one voice isn't nearly as powerful as ten voices.
The City of Maribyrnong knew it benefited everyone, so they were invested in it.
That's the philosophy of Mamawest. Six individuals with their similar philosophies. I had no idea which co-working business would become involved, and it's become creative co-working.
We have a Money and Mindset mentor, a florist, a nail artist, a makeup artist, an eyebrow, and eyelash enthusiast, and three local artists who hang their art on the walls. We share what's here. I never wanted to be a famous hairdresser, but I have this anticipation to be a famous hairdresser within the community, and people would ask me if I'm Mamawest and that makes me happy.
The little space we have is deceiving. You never know it's there. There are so many different elements and nooks and crannies.
I already had my own business for the last four years before expanding my business. Between 24 and 28 I was working as an at-home dresser, so they came to me. And I was booked out a month in advance. Someone like me, I need to be changing and evolving. When things get stale, that's when things get dangerous.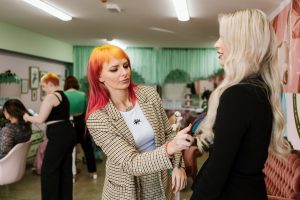 I'm a thrill seeker, and I live for that rush of anything when things are stagnant. The four walls of my home business were closing in on me, and I knew I had to think bigger. During the month of April and June 2020 – when Covid19 first hit us – the idea started to manifest, and I knew I wanted to do something different.
I wasn't sure if I wanted hairdresser/ coffeeshop I just knew I wanted more than 'just' a hair salon.
My current space was the third space I saw. It was a huge risk to take on the commercial liability, but I had this instinct I could not deny. I knew it was going to work. I signed a lease January this year. Mamawest didn't even exist last year, and it's just an idea that I sold to the Inner West community. Once it started coming into fruition, I interviewed at least ten businesses and closely selected what felt right. Some have since come and gone, but it's been really natural and organic.
I started with 120 clients and in eight months it grew to 850 strictly Mamawest clients. I have a team, that I cannot do this without them. This is now beyond a one woman show.
I've been doing a lot of breath work, meditation, pilates and yoga through lockdown focusing on my personal needs. The pandemic has been the hardest as I didn't see this coming. I think what makes it hard as a small business, is navigating to police vaccination, and having to ask a staff if they're going to be vaccinated, along with hard conversations about reopening. I have a responsibility to myself and the community to protect them and the vulnerable. That's my stance.
I'm pro-do whatever the fuck I need to survive.
Inner West is more a home than I've ever felt anywhere in the world. I'm originally from Perth, and Perth isn't home at all. I've been in Melbourne more than half my life, and the last time I counted, it was 15 times since I've moved. I've stopped counting to be honest, and I now see everything that's happened in my past that has led me to this moment. It's all a part of me, and I'm open about it. It's shaped the woman I am today and being able to own my past. I've been in the gutter and know what that feels like. It gives me compassion to the world and a certain resilience that not many people have.
Drugs weren't the problem. Drugs are the solution to people who have a bucketload of pain and I have come to love and nourish that pain and learnt to put that pain and energy into Mamawest. Mamawest has an energy that no one can deny.
I am a mum & a mum to myself as well. Mamawest is a representation of home and reparenting, and the WEST is home forever.