"I've been a model since the age of 16 and growing up I was much bigger than everyone else. From Year 6 I just shot up and was taller than all the boys. Around Year 9 or 10, the boys were taller than I was, and I thought 'Finally I'm not the tallest on in the school!'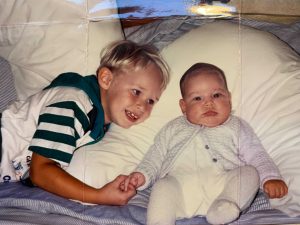 I grew up by the sea in Sydney, Newport specifically, catching waves and sun rays. I had three siblings, the two eldest are from my Dad's first marriage – my oldest brother Aaron and my sister Donnelle as well as my brother Rory (same Mum and same Dad). I was the youngest by 4.5 years, so I was always treated as the little sister – even now that's how they treat me. I wasn't really close to any of my siblings growing up, I think it's because I was so much younger – but I think I'm naturally a righteous kind of human, always obsessed with the injustice of it all.
My parents owned a telecommunications business for 20 years, they met at a pub in Sydney my Dad a working class man and my Mum a posh woman from Mosman. Two worlds colliding. They bought a farm in the foothills of the Barrington Tops when I was 5 and we would go up most weekends. I would go horseback riding through the hills and swim in rivers with platypus and lie in paddocks with clover the size of my hand.
When 9/11 happened, my parents got spooked- everyone did I guess and we were moved to the country full-time. It took me two hours to get to my school in the local town by bus – they were some of my favourite days growing up, we caught two buses and we would have a 40 minute stop between them and we would run down to the local river on hot days and jump in and all the bus buddies would climb onto the bus dripping wet – the bus driver hated us.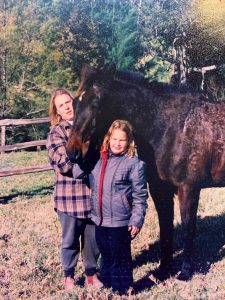 When you are brought up with the feminist idea of beauty, I didn't fit in the box, and it was hard. I was obsessed with the creativity that modelling afforded, and what models create. I was watching Australia's Next Top Model when I was 15, and there are photos of my friend and I creating photos of myself posing.
When I was in high school, I went shopping and felt really left out. Clothes did not fit me and before Kim Kardashian brought butts back, shopping for clothes felt unattainable, it's a rite of passage for young girls to shop together, it's an expression outlet. I have always felt different; everyone I know feels different. However, when you are big, it feels amplified as I am so much more than everyone else.
My family lived in the Hunter Valley in NSW during my teen years. I won a state-based modelling competition for City Chic at 16 years old and went on to the Nationals. I got into the Top 3 but didn't win. It was an amazing feeling, and it became my obsession.
While I was modelling, you get this sense that you are not real, the designers treated me like a clotheshorse, like I wasn't there. People were just hanging clothes off me. The weirdest moment was at a casting, when a woman said to me, 'Your arms are too long.' I was like 'What? That is the dumbest thing I've ever heard in my life. I am 6'1 and naturally I have long arms!'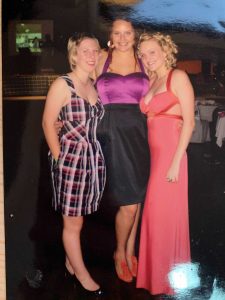 I had finished up school by then and went travelling around Europe on a Contiki tour. It was my first true exposure to a group of different people from all over the world, and no one was focusing on people's differences. It was about a shared experience. I remember the first night, the bed next to me were two Americans getting jiggy with it and I thought 'What have I done?'. Back then phones weren't as good either, or I had to be connected to WIFI to talk to my family – some of the places I went had very little access to internet. The trip was a shot to my system, and it shaped me. I was alone on the other side of the world, with no safety net.
"It was me VS the world, and I realised I did not have a fear of doing things.
I was away for three months, and came back to Australia, back to a tiny town called Maitland in NSW. I said to my then-boyfriend 'This is not enough for me' and decided to go to Sydney. He was a real country boy, and I was a crazy loose unit. Mum by then had moved on a sailing yacht with her new partner and sold our family home – so I was standing on my own two feet with a lot of confidence.
I moved to Sydney at 20 and began a communications degree, majoring in social enquiry at UTS. I lived in the Inner West of Sydney (Marrickville) before it was cool and pre-urbanised. There were 20 Vietnamese restaurants there, and most people I spoke with were Vietnamese. Until then I had never tried Vietnamese food, but that was all I ate when I lived in Sydney.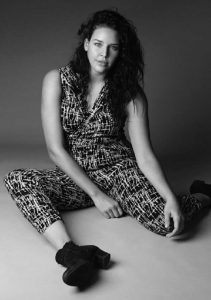 I became friends with my Uni buddies, and they were basketballers or models. They were all girls. We were an intimidating bunch of women and would hit our 10,000 steps from midnight to 2am o the dance floor – we went so often to Bungalow 8 that we became mates with the bouncer, Michael would always let us in for free and jump to the front of the line. We only hit on tall men, as we were freaks ourselves. Everywhere we went, we were a pack of 6-footers. I was so tall, and would wear heels, and have no shame about it.
If you are over a size 10, back then the default style was baggy shirts, paisley peasant tops and three-quarter capri, with a stretchy band at the back. I would walk on catwalks in Melbourne and Sydney fashion weeks, and the traditional Mum vibe was still a thing Mum's are way cooler now). I was fed up modelling just clothes from Kmart, Target and Best & Less. Modelling paid well and put me through Uni, but the clothes I was wearing was the same matronly-style clothes.
I remember one day on a runway for Myer, the straight sized – or 'smaller girls' – were wearing these beautiful Alex Perry-type gowns, and the curve girls were in the peasant tops and capri pants I had all this anger inside of me, and snapped. I was vocally rude to the clients. I was so mad. I went home that night, and decided I was going to start a business. That was October 2016, and the inception of Hear Us Roar began. I was doing all the research, and trying to figure out what it would cost, and doing research on what I was going to do.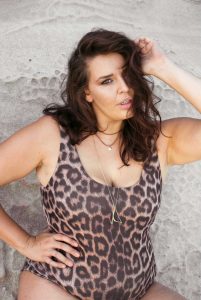 I was still working for a start-up media business then and was still putting time into building Hear Us Roar at nights and early in the mornings. I applied for an accelerator course at University Technology of Sydney (UTS) but turned it down initially. As Hear Us Roar began to take shape, I realised I had the entire backing of all the plus-sized companies and all my modelling friends.
Hear Us Roar was importing stuff from all around the world. I went out to all these brands, based in Europe, New Zealand and North America. Hear Us Roar gave me an opportunity to bring in brands no one had ever heard of. We started to create these powerful, sexy and creative images of plus-sized models; the designers couldn't get enough. Models were sharing it on social media, and people just wanted to be a part of it.
I decided to go back to UTS and learn how to build a business through their accelerator. At the end of the program, I had to do a 'Shark Tank' pitch, and I somehow won. I received $5,000, which gave me the confidence to join another accelerator program – Tech Ready Women. I am now an alumni and mentoring female founders. I have gone full circle and giving back to the industry and people that basically built me up really fills my hear with joy.
Around this time, a business very similar had opened its door in Melbourne. It was another curve model who had started the same thing – a marketplace for plus size fashion. It's such a small industry and I'm not a fan of aggressive competition, so when Karina was having a runway in Melbourne, I called her to tell her I would support her, and I flew down to watch and cheer. After the runway (which was incredible) we connected, and I knew there was something special about that woman.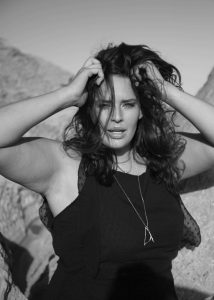 I needed to get some more market validation for the business, so I decided to run a pop-up in a major shopping centre in Sydney. But I was so overwhelmed and still working full-time. So, I called Karina and she took over the operations of the pop-up and flew up and worked in it for a week. We were standing talking about the business (she had closed hers down at this point) in this tiny wooden structure and I showed her much money we were making and what I was trying to do, and I asked her to be my business partner. It was the best decision I made.
I did not realise the impact Hear Us Roar would have on women. I thought the customer was me, a young 25-year-old woman who couldn't find clothes. In fact, it was a mother who didn't want to look like a mother or 40-something who wanted to look fantastic, but there's nothing out there for them. When mothers found Hear Us Roar, they just gushed and were desperate to find out more about us. The pop-up really validated the business and gave me excitement about what we were onto.
The first pop up we had in Melbourne was in Williamstown as Karina lives in Yarraville. I flew in from Sydney, and met two women who came into my stall, who proceeded to invite me to live with them while I was here for the pop up – shout out to Leanne and Kath. I now refer to them as my two mums. We did a few more pop ups around Australia, and the final one was in Highpoint last year. It was two weeks into March, when the pandemic hit.
I met my 6'5 partner Boris in Sydney on Hinge, my crazy lovable Russian in Dec 2018. At the start of 2020 he had to move to Melbourne for work, right when the bushfire was happening and I was definitely coming with him, we chose the Inner West because I fell in love with the people when I came to do the pop-up in Williamstown.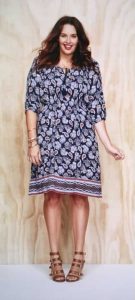 By the third quarter of 2019 I was burnt out. The business model of Hear Us Roar requires volumes as the margins are so small, and you have to be a marketing machine. Unfortunately, Facebook and Google own the marketing, and we weren't making enough. I went out looking for investors; we got some, but it wasn't enough.
We are two females, with zero prior experience and a million-dollar business on our hands. Retail businesses are less likely to be funded by business people, unless you're based in the United States. Australia isn't big on retail unfortunately. After three or four months of hardcore investor hunt, I realised I couldn't keep doing it. By the start of 2020 I was exhausted from running a business that never paid us and ate my days up and I was constantly travelling around the country, trying to promote Hear Us Roar.
One of our designers put forward an offer, and we were so shocked, but saw an opportunity we couldn't pass up on. We sold Hear Us Roar, but I've been kept on as a consultant.
This year I'm going underground to just live. I have an amazing job at the Red Cross, and fun and interesting partner who likes to explore, and a big fluffy groodle who likes walking. Simple things, but honestly, I've never been more relaxed and happier."