"I was born in Glasgow in 1981. When I was 5 my family moved to the Thurso, up in the Highlands for work. It's right at the top of Scotland, and we cannot go any further on the mainland of the UK. Thurso is a tiny town, but it was a huge change from Glasgow. It felt safe, and I remember asking Dad what sort of crimes happen in Thurso. 'Someone got put into jail for stealing Milky Ways', Dad said.
That obviously didn't happen! I'm the second eldest of five children, and Dad got us into sports at a very young age. I was heavily involved in athletics, swimming and cycling, earning my pocket money on the Highland Games circuit competing against the men. The family tried everything, including karate and sailing, but we really excelled in the swim-bike-run side of things.
I did my first triathlon when I was seven or eight, and it was freezing. Some of the conditions were tough however, it's one of the best things that ever happened to us. It gave us experiences that we never had, and every weekend we'd have races around the UK. I picked up a silver and bronze in the British Championships for Under-16 when I was 12 and 13.  I never did get that gold, but never say never.  My youngest sister, Charlotte is 10 years younger than me, and she stuck at the sport and has been a full-time professional triathlete for 10 years and most recently represented Australia in the Commonwealth Games. We are so proud of her, she's an incredible athlete and very humble.
I've always worked and juggled jobs growing up. By the time I was 14, I had four jobs – doing the cream run, paper run, ironing and newspaper rounds. One day I was so tired but didn't want to miss my shift, so I cycled down to do my paper run and sat outside the shop, waiting for it to open. I had failed to notice it's in the middle of the night!  Thankfully dad came to pick me up.
I made the choice not to go to uni and left school at 16 after 5th-year higher. My first full-time job was in Ernst & Young as an office Junior in Glasgow. I also worked part-time at the registers at Celtic Football Club and was one of those annoying people calling up to sell you a conservatory and had 3 jobs at once to be able to support myself on my own. I have never been afraid of hard graft.  I rented my first flat at 16 years old and always had friends older than me. We loved the Arches in Glasgow, if you know your dance music, you will know what an institution it was.
When I was 17, I moved into business to business sales for a Scaffolding company. My clients would be mostly men from building companies, and by the time I was 18 I was designing systems for property development sites. I learnt a lot along the way, and it led me to set up my first business.
My business plan was written up when I was in the hospital. My appendix had burst while I was in Ibiza, and while I was in a hospital in Spain, my life flashed before my very eyes. Everything became open and I was aware. I decided when I got back, I'm going to start a business.  My first business venture was when I was 18 years old when I set up my own construction hire and sales business, mostly focusing on things like fencing, ladders, powered access etc.  This business lasted a year, and while I didn't lose any money as I didn't start with much, I learned some stuff to get better at next time.
That experience led me to land a really great media sales role at 19 years old for a business to business publication serving the UK licensed trade. My clients were booze brands like Diageo, Suntory and lots of smaller brands making it into the market.  You can imagine the functions this led to… one of my faves was interviewing Carl Cox at a festival, and judging the nightclub of the year awards with a panel of industry leaders.  It was a lot of fun.  My second job in media was for property publication. That's where my love for property intensified. My clients were property developers and I looked after their print and online activity across West of Scotland developments. I was very comfortable at boardroom level even before reaching my twenties.
I purchased my first property at 18 years old in Glasgow, a 2 bedroom Victorian tenement in the South Side. I developed an eye for renovating traditional Victorian properties.  By the age of 23, I had renovated 10 places.
I had what some people may call "everything" when I was 23, and more money than sense when I think about it. I've never had a handout from anyone, I have always had a strong work ethic and am not afraid to take risks.  Some of those risks didn't pay off, and at a very young age, I learned the hard way, and about the value of money, that material things don't matter one bit. With the GFC starting to loom and a house pricing crash not far away,  I gave up the property development gig and took up a job at The Sun for a while. This was also where I met my life partner Gary.
I loved my time at The Sun, the banter was free-flowing, and life felt simple.  After a while, I also started to feel like every week was the same, and I knew at some point I had to change it. The 'Aha!' moment.
I began looking overseas for an opportunity to work. I was looking at the USA, Australia or New Zealand. They were also countries with a buzzing media landscape, and that excited me!  I got an Australian visa, and not knowing a soul, stepped off the plane in Sydney in 2004.
The first thing I did was go to Bondi Beach and wondered why no one was sunbathing, and why I was sitting shivering my bits off. It was practically still winter!  I was 24 then, got my residency within six weeks and had my first job. I went back to be the cog in the wheel, working for someone else. I was in Sydney for five years and moved to realestate.com.au in 2005 when they were still turning over $20 million a year.
A few months after I arrived in Sydney, my family had emigrated to East Gippsland. When Dad told me he had the interview and job lined up he said  'We're very close to you!' Turns out they moved to Bairnsdale in Victoria! That's 11 hours away from Sydney!!   I spent my first hot Christmas in my life with them that year, driving down from Sydney and up over Mount Hotham to arrive Christmas Eve. It got dark as I reached the bottom of the mountain and I did the drive on my own in the pitch black, crying the entire way, thinking of wolf creek or coming off the mountain never to be found again.
Gary moved to Australia 2 years after I arrived and we moved in together in Coogee in Sydney. We had a long distance relationship until then, and it was pretty magical. After a few years in Sydney we wanted to be nearer to my family, so made the move to Victoria. We always loved Melbourne when we visited so decided to move to Melbourne.
A recruiter headhunted me for a property portal, servicing investors. All my skills from my days in Scotland came back, and we launched Property Observer. I was headhunted again for Mamamia, working with Mia Freedman. When I met Mia, I was four months pregnant with Isla but kept it quiet for a couple of months as only found out the weekend I was due to start.
After a long and successful career in media,  I made the decision while I was still pregnant. I was like 'It's now or never.' It's time to go into own business. Looking back, at the time I was worried that my 15 years in Media was a waste, but it's underpinned my current success and gives me the ability to deal with different types of people.
My main driver to go it my own way was, I was having a baby, and I didn't want my child to think if he or she was in daycare, Mum was out doing a job she didn't love. I was offered a lot of things to come back to employment, but I knew I would never get off that wheel.  I have known since a young age I would always ultimately run my own business. It's never been in question at all, I just didn't know exactly what that business would be.
I started thinking about the things I loved and where I could go from there, and two of my big loves are cooking and fitness.  I thought about training to be a chef, but the idea of getting yelled at in the kitchen and peeling potatoes as an apprentice didn't do it for me, so I decided to study to be a PT and did this as I was pregnant. I had about $1000 in the bank at the time I started the business a few months after Isla was born.  Money had run out with no maternity pay.  I started doing PT at home and small group classes in St Augustine's church in Yarraville. I am so grateful for them for giving me the chance. I remember looking at other small spaces thinking I could never fill it up.  Pretty soon I was filling up the full hall in Yarraville, often with 40 to 50 people in a class. I have met some incredible people and families throughout the journey.
As a first time and new mum, my life revolved around Isla, she was in every single thought, until that very first class when for 30 minutes, it was just a complete buzz of crazy energy. I realized I just needed to give the participants the best 30 minutes of their lives, and I would have fun while doing it. I love it, and it's like an adrenaline rush.
From school halls and parks, we moved to a studio in Yarraville in 2015 and I also started many offshoots related to fitness, and my online profile The HIIT Mum, along with workout App PT in My Pocket. In 2015 I won the Telstra women's business startup of the year for Victoria. I have spent the last couple of years working on developing our own formats and we do a variety of sessions, and music is hugely important to us as well as the workout. You will feel like you are entering a party rather than a workout class.   We will also never bring machines into The HIIT Factory, and my mission is that anything we use in sessions can be replicated at home. The main reason for this is our market is made up hugely of mums and dads, and there are always times when things come up and you can't get to class. I want to empower people to use their bodies as machines, and to escape comfort zones, living their best lives.
I set up a franchise model in 2018 after licensing out my brand and learning a few valuable lessons. Setting up as a franchisor has been a massive investment in time and money, but our IP is now fully protected. The lessons I have learned about people are the hardest and darker side of running a business, or certainly one where you have an accessible public profile.
The HIIT Factory now has outlets across Victoria and one launching in Perth soon. Three are corporate-owned, and four are franchises. I am building a model that is scalable and it's provided so many jobs within our local community. My instructors are all mums and dads who started as clients and fell in love with our style of training along the way. Our franchisees have come from mostly clients or other trainers I have met in the industry through delivering certification workshops, but the opportunity is there for any passionate and driven person to open their own HIIT Factory location.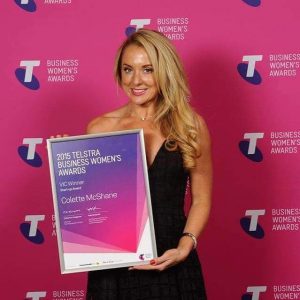 Running a business has been the toughest and most rewarding thing I have ever done, but it's not for the faint-hearted.  Every step of the way has been bootstrapped through blood sweat and tears, and there have been times when I have wanted to walk away and go back to a normal job with a salary. When this happens, I usually open up an email or a message from a client or someone in our community about how The HIIT Factory has changed their lives and it's their happy place.  It's my happy place too.
We moved to Yarraville in 2012, three weeks before Isla was born. I love the village feel and sense of community. We now live in Williamstown, mostly so we can be near the beach and I have a great route for running from the beach up to HIIT HQ in Yarraville.  My favourite way to relax is a movie at The Sun Theatre.  I will have a mini bottle of Scotchmans Hill pinot and some popcorn, and I'll be in a happy place. I read a lot, and fly through books, something I was never good at when I was younger; it's my time away from devices.
At weekends I am often at running events, currently training to qualify for the triathlon world championships in Switzerland this year. I represented Australia in Rotterdam in 2017 in the sprint distance, and this time have my eyes set on Olympic distance. Our style of training at The HIIT Factory helps endurance and power in any sport.
Even though I have delivered workouts with thousands of people, in some ways, I'm an introverted extrovert. I have a real fear of public speaking; it petrifies me. I've been asked to speak at many events, but I always say no, but I do want to share some of my story with the locals here.
From workouts in the park, to where I am now, I will always be thankful for Yarraville and it's people,  as it's the home of The Hiit Factory."