Resident of West Footscray, Former tennis pro, tennis coach, prolific painter, dad, husband.
Ronaldo and tennis
I have a reluctant and accidental migrant story. I was born in the Philippines and lived there until I was 28. I had no plans to move to Australia. I had visited as a tourist back in 1995.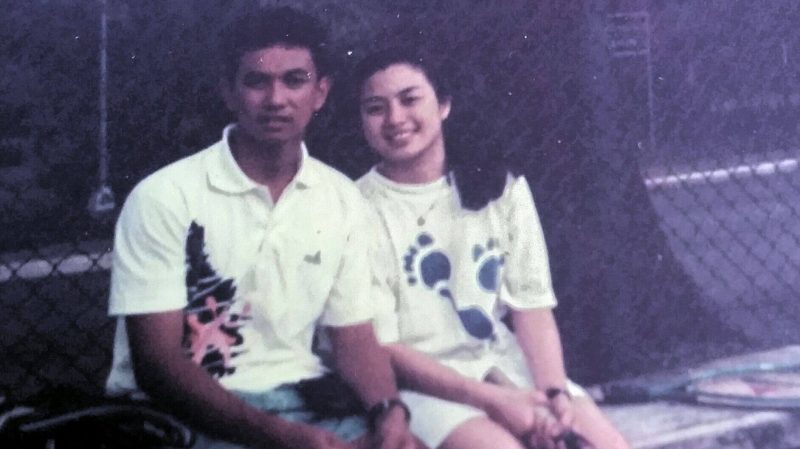 However, my wife Emma – who I married in 1997 – is an Australian resident. It was more of an accident and I had never planned for things to work out for the better.
Growing up, I lived with my dad. I was six years old when they separated. He is an old-school dad and is from the military. He went to West Point and had gone to Vietnam to attend several meetings with military officers and mostly patrolling the camps you ask me, I don't think he really fired a gun in battle; he never had a chance. I'm sure if he had fired a gun, he would be telling the story forever!!
Dad ran the house like the military like he was in charge of a platoon. You cannot question him. If you ever said to him 'Dad, you're wrong,' you are asking for war. At the dinner table, he would tell us things about life. He is so used to grown-ups obeying him, as a little kid, I just had to agree with him.
I knew all I had to do is look at him, and just let him say things as he would run out of things to say. His intentions are well and good. His parenting style would be criticized these days, but I understand him fully.
I was doing okay in the Philippines. I don't have a dramatic migrant story where I had to cling on a boat and fight for food. When Emma and I got married in 1997, it was always a battle over whether to stay in the Philippines or move to Australia.
A part of me has always known Australia is a better place, especially for sports. However, you'd have to leave your network, your uni friends, and political connections.
In the Philippines, there are always political angles. I'd have to start all over again and be a small fish in a big pond.
I was in the Top 5 in the Philippines and the Number 1 Junior player. I played in the pro circuit for a short stint until injury struck. In defiance, and not wanting to leave the tennis world, I thought of coaching as the great option. I was coaching in a fancy-upscale club and in a big university. The club is the equivalent of the Kooyong Club over here, and there were all these cool people, and I would rub elbows with them.
Coming here to Australia, who knows me? No one.
I arrived in 1998 as a very reluctant migrant. I had told Emma we would only be here for a short while and we would move back. Our first real home was an apartment in Rupert Street, West Footscray.
Thanks to tennis, within a week I found it really easy to assimilate. It was so easy. I never had a feeling of 'I-am-so-lonely-at-home feeling' or self-pity. I would go to tennis clubs and meet different people. If I didn't have access to a car, people would offer to pick me up.
Every time I meet migrants, I hear the same story. 'I'm so sad here,' they would say. I would look at them and go down to their level and tell them I don't understand what they are saying. The mums especially, when their husbands go to work, they would stay at home, watch Filippino tv shows, and get more depressed.
'Listen. I have an easy fix for your sadness. Go play sports. This is a sports-mad country.' I would say.
I have always encouraged all Filipinos or migrants to go out, play sports and don't stay home. I haven't had any racist opinions thrown at me since I arrived…I think.
At the back of my head, I have made it a mission to get people out of their homes. When I meet a first generation family, I would tell them they have done the right thing by joining the club. However, do not hang around with migrants who are in self-pity mode, they go home and talk about the good old days back in their country.
Go out! Meet new people! Join a club! You would find yourself blending in and part of the community. That's what I've been doing for the last 20 years, it works
I coach in Brooklyn, in a small tennis club. About 15 years ago, we had a lot of lower-middle-class families, mainly migrants. The demographics today is very different. I've met some second-generation migrants who grew up here, and still struggle with English and behave like first-generation migrants because they don't try to talk to anyone. Naturally, their kids are fluent in English.
I would see these parents, always sitting in the car, not wanting to talk to anyone and preferring to talk to the phone in their native language with their friends. I assume they were having a pity-party. This is the time I make wild stories in my head about their daily struggles and I offer my simplistic solution – play tennis.
I would tell them to give tennis a try since their kids are trying it. They would tell me they are too old. I would say 'What are you talking about? I'm in my nearly in my 50s and I don't feel old!'
Every season after the Australian Open, we get an influx of new families asking for lessons. Once I find out they are new to the country, I would encourage them to hang around the club and play with different groups of people."
Ronaldo San Andres and his paintings
Growing up as a kid, I would follow the history of art. Even in primary school, I had a friend who would critique paintings with me. I have always like colours, and my mum loves it too. I've always been around paintings as mum have them at her home.
History was the reason I got into painting. The American painter and author, George Catlin, wasfamous for his paintings of Native Americans. Without his paintings, it would have been hard to visualize how the Native Americans would have looked. The power of the paintings! You can imagine it, just by looking at it. It's alive!
My first subject was my younger brother. I wanted to immortalize him, just like what George Catlin did with the Native Americans. I paint mostly landscape, as it's easier. I have a method of making a mess and am not afraid to make a mistake. I didn't go to art school and am self-taught. It's all passion. Back then, there was no Youtube. I had to go into a bookstore, study it and copy it.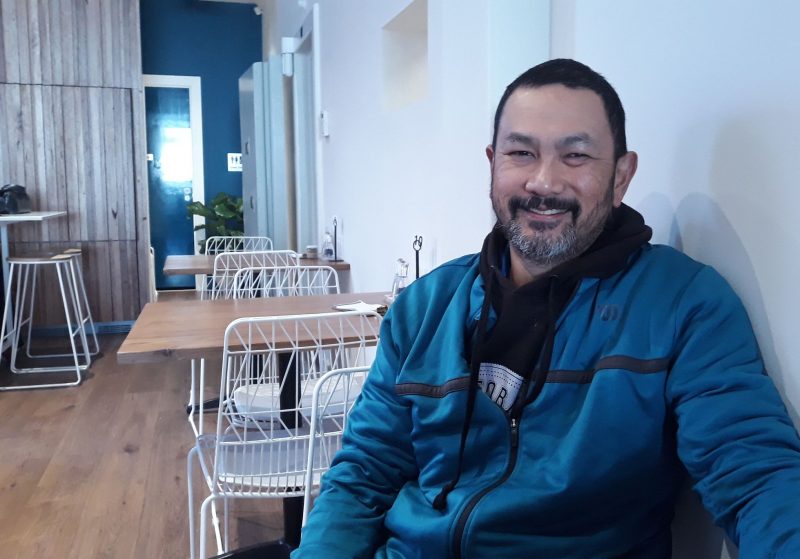 I do acrylic paintings now as oil has fumes and it's bad for the dogs. Acrylic is water-based and should I accidentally drink it, I won't die. When I moved here, I haven't painted for about 18 years. When you are dating someone, you don't have time to paint!
One day, my eldest child saw an old painting I had done in the 1990s. She asked if I really painted it. I replied it's been in her room ever since I painted it. I pointed to my name at the bottom of the painting.
'Can you paint again?' she asked.
I didn't have any materials then, but people had given my children art stuff as presents. She gave them to me, and I took her kids paint and a brand new art brush purchased four canvasses and asked her what she wanted me to paint. She pointed at an Alfred Sisley book and picked out a painting. She gave me a few days, and I produced the painting.
I never painted again until 2016. Nobody ever believes that I paint. One of the mums at my tennis club asked if I really painted the paintings at home. 'How can a sportsman paint and you don't look the part?' they would ask. It's a different world. I only intended to paint when I retire but spurred by what they said, I began painting more often.
Now, I paint weekly. Sometimes I finish a painting in one sitting; a landscape takes a day whereas a portrait takes longer. I am able to make more mistakes in a landscape painting, while it's harder to cover my mistakes in a portrait.
I have done a few commissions, and now friends who have birthday parties would ask me for it. 'Just paint me something!' they would say, and I would happily do it. They just don't know it took me ten hours!
Recently I painted my grandpa who had passed away. I got a black and white photo of him and painted it with my own colour impression. Everyone was happy that someone had painted grandpa, and it remains in my house. My kids would always know that's their great-grandpa.
I was very ambitious as a 20-year-old. I wanted to conquer the world in some way. I wanted to be the best, chasing dollars and being in a group. However, when I moved here, I realised that wasn't me. Once you feel the security, all those 'chasing' didn't really matter. As long as I have a food, secure finance, I don't need millions. My kids are happy, in school and are doing well. We travel once in a while, and I'm happy about that.
Sometimes I question myself. Am I putting my guard down too soon? Do I have to be more aggressive? No, as I'm happy.
Moving to Melbourne in 1998 was, to borrow a tennis term, match point for me. Why? When I was a kid, I would only have moved to four cities – New York, Paris, London or Melbourne.
They are the four Grand Slam cities, so moving to Melbourne is the fulfilment of a childhood dream. It's a dream I never chased, and now I get to watch the Australian Open in person annually. I am the envy of all my tennis friends, at least that is what I would like to think!
If my life ends now, I can say I am happy and my life has been good. There have been struggles, but I've always come out on top.