"I was born in Glasgow and lived there till I was 18. Mum and Dad separated when I was two, so my mum moved back in with her mum.  Granny Meek had a hard life, bringing up six kids on her own, as her husband passed when he was in his 30's. So she wasn't always the easiest person to live with.
Granny Meek, Mum and I were living on benefits. Mum suffered from schizophrenia and was considered medically retired. Life at home was sometimes difficult and wasn't always pleasant, but despite the challenging times, there was still laughter, singing and parties. Glaswegian parties are notorious, for way too much alcohol consumption, and singing there is always singing. Everyone had to have a 'party piece', which could be a song, a joke or a funny lyric.
When I was 14, I don't know why, but I knew I wanted to live in Australia. Neighbours gave me a glimpse of what life might be like. I thought it would be a beautiful country to live in. I just always felt an affinity with the ocean and felt the happiest living near water (there was lots of water in Glasgow, just not the right kind). I dreamed of making Australia my home, I just didn't know how I was going to make it happen, but in my heart, I knew one day I'd live there.
I left Glasgow when I was 18. I used to holiday in Jersey in the Channel Islands as my grandparents and auntie lived there. After a major blue with Granny Meek. I decided to leave home and move to Jersey. Luckily, my dad's sister welcomed yet another of the Reynolds family into her home. After a couple of weeks, I found a job in one of the many banks in the island of Jersey and so began my banking career.
Living on such a beautiful island, life was easy. The summers were stunning, we hung out on the beach every weekend, work was great, and I made some amazing lifelong friends. After 13 years of living in Jersey, I decided it was time to explore the big wide world. I got out the world map and decided it was now or never. For 12 months I plotted my way across Asia, New Zealand and finally landed in Australia in 1997. Luckily for me, my cousin and friends joined me after three months, I had travelling companions for nine months. Travelling across so many third world countries gave me a new appreciation for my upbringing, my family and friends and the opportunities that life presented to me.
We arrived in Sydney in 1997. I worked two jobs, waitressing (cash in hand) in the MLC Centre in the café and the bar. I have a natural curiosity for people and love connecting with our customers, which resulted in me earning more money in tips than wages.
During my time there, I met a group of customers who would come in every week, there were usually 10 or so of them. It was easy to memorize their orders, which meant before they sat down their coffees were being made and delivered. They loved that I remembered their orders (if not their names) and during one of our many conversations they asked me what I had done prior to waitressing. I shared with them that I worked within the banking sector for over 10 years.
Turns out they worked for ANZ, and they introduced me to a recruitment agent. That meeting changed my life. It led me to be hired as the Contact Centre Manager for GIO, setting up their 24-hour contact centre. I went from an $8 an hour job to a $60,000 a year job. Back in 1997 that was a great deal of money. It was a fabulous opportunity, and I was fortunate enough to make lifelong friends from working there.
A fateful call from a Collections Manager to one of my staff at GIO resulted in an escalation. I took the call, and to alleviate the situation, made a few calls myself. I discovered the solution and called them back. They were so pleased with the result, they told me 'NAB is looking for a Collections Manager, would you be interested in the job?'
I flew to Melbourne for the interview with the NAB. As soon as the plane hit the tarmac, my intuition told me that this was going to be home. When I was offered the job, I accepted it immediately, despite not knowing anybody in Melbourne. Thankfully, it didn't take me long to make some new friends and within three months I met my husband, Phil at work.
After working at NAB for 12 months, there was an opportunity for a promotion at Bank of New Zealand, in Wellington. Phil and I had just bought our first home in Newport, after only living there for three weeks. I packed up and went to New Zealand. That was one of the most difficult 12 months of my life. I was away from everyone I knew and loved and I was in a senior role, with a steep learning curve. The Kiwis didn't welcome me with open arms, in fact, they were extremely hostile as I was the 'Aussie' who had come to turn their worlds upside down. However, 12 months really does fly by, and by the end of my secondment, the natives had somewhat warmed to me, despite implementing a technology platform that they did not want. I left New Zealand with a greater appreciation on how to navigate a male-dominated leadership team. It helped me build my corporate resilience and I learnt a new mantra – 'She who has the most flexibility has the most control'.
Looking back, it seems that every time I accepted a new role, the division was going through a restructure or cultural changes. In 2004, I had the opportunity to take a voluntary redundancy and so began my contracting journey. Contracting is usually fast-paced, demanding with aggressive deadlines and whilst I can thrive in that environment, I was beginning to wonder what else was out there. There must be more to life than just this.
I decided to undertake some personal development, did a heap of courses and became a Humans Synergistic Practitioner. I quit my corporate role and entered into the world of personal development and business coaching.
In 2016 I was meeting a client at a local non-for-profit café in Newport – New Leaf Café. Nathan, the CEO at the time, was sitting in the corner. After my client left, Nathan began chatting with me. He had heard my Glaswegian brogue and was curious about what brought me into the café. He shared the history of the café, some of their challenges and what they hoped to achieve. I thought it was a great initiative, so I offered my services initially to help the job seekers with interview techniques, resume writing etc. To date, these initiatives and our team have supported over 500 job seekers to gain meaningful employment.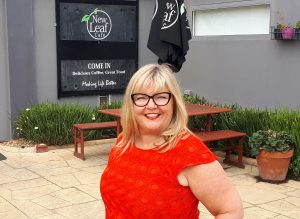 Working with the job seekers, new leaf café team members and our volunteers the role grew into something bigger and before I knew it I was there pretty much full time. The café was one of the best-kept secrets in our community, so we set out to make it a vibrant café and welcoming community hub, where everyone feels welcome. Thanks to the dedication of our hard-working team, our café now runs monthly kid's events, facilitates kid's birthday parties and caters to the Western Projects Association.
Bunnings Altona has supported us by allowing us to run cake and sausage sizzle stalls and we support other like-minded organizations such as Friend in Me by promoting and sponsoring their events.
One of our goals this year is to build a community garden, where we can grow our own fruit and veggies and have a paddock-to-plate concept. We would love to teach kids how to grow veggies, hold organic markets where we can buy, swap or sell organic produce and run horticulture classes where our job seekers and the general public can obtain their horticulture certificates.
I've always lived in the West. When I first arrived in Melbourne I drove my little silver RAV 4 all over Melbourne, eventually ending up on the Westgate Bridge. I took the first exit and ended up in Williamstown. Sitting outside at one of the local cafés, drinking my cup of tea, eating my seafood chowder and toast, I felt like I'd arrived home. I really felt like I belonged there.
Over the past 19 years, Phil and I lived in the West. Our first home was a little unit in Williamstown. We bought our first home in Melbourne Road, Newport.  We lived for seven years before settling into Altona. We love living in the west, it is a great community and especially love how close we live to the beach. We regularly take Hank, our latest boxer rescue, down to the Altona doggie beach. He had never seen the sea before, the waves initially freaked him out.  Thankfully, Hank has also been welcomed by Ollie and Mannie, our two fat cats and is settling in really well as part of our family, despite his rocky start in life.
My ultimate goal is to open up an animal sanctuary alongside a kid's haven. According to Kids Under Cover, there are 44,000 kids on the streets in Australia, which is just unacceptable in this day and age. One way I'd like to address this, is to create a safe space where the kids can grow and learn life skills, gain an education and achieve goals for themselves. In essence, the lost and abandoned kids look after the lost and abandoned animals, teaching them unconditional love.
Life is like a rollercoaster, full of adventures and challenges. Thankfully Phil and I have a strong loving group within our family and friends. They celebrate our wins and support us during our difficult times. They have even supported me during my crazy moments, like when I twice threw myself out of a small aeroplane (once over Jersey, Channel Islands and the other in New Zealand) to raise money for pancreatic cancer."