Resident of Altona, Dad, husband, enjoys a nice red
Territory Manager for Purplebricks Australia
I'm a born-and-bred Westie. I was born in Altona Hospital in 1976 and have resided in Altona ever since. Much has changed in Melbourne's West over the last two decades. In that time I've seen a metamorphosis from the grittiness of industry and humble blue-collar life to an awakening of rich vibrant culture, and an emerging younger demographic embracing new beginnings in what is now, highly sought after real estate.
My parents are of English heritage and arrived here in 1961. They hadn't yet met, but were on the same ship. Leaving England for Australia meant a better life for their large families. They settled for 3 years at The Brooklyn before moving to Millers road, Altona down near the beach.
Dad was a shipwright and served his apprenticeship at Port Melbourne Authorities, Williamstown to become a shipwright/boat builder. Dad worked there for many, many years whilst Mum managed the Shell petrol station in Spotswood.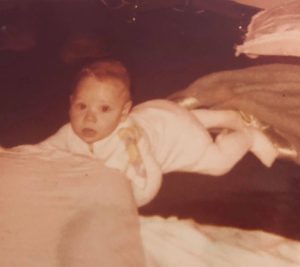 Mum, my sister Jill and I – are Collingwood supporters. Mum is a die hard! When she came to Australia, there was only black and white television. So she asked locals which footy team has black and white colours – she couldn't differentiate them on tv, so a one-eyed Magpie supporter she became! She often took Jill and I to Victoria Park to watch matches from when I was just two years old. We loved it! And if we won we got treated to a jam donut.
I religiously attended games every week up to the age of 18. I grew up playing footy and cricket, was batsman and wicket keeper for Altona and reached the top grade. I had plenty of good times in my junior career and won an abundance of awards. I really miss those times. When I completed VCE, I took up a job in a 5 star city hotel whilst I pondered my future career options.
I remember getting up at 4am to do the paper runs, it was bloody tough and far from glamorous, however, I had it ingrained in me that "small opportunities are often the beginning of great enterprises."
I had no aspirations to go to university but certainly wanted to do something in business. I remained working in hotels for about four years.
I recall one day, there was a conference at the Carlton Crest organized by Neil Jenman who created the Jenman System. It was one of the biggest disruptors of real estate back then, and an alternative to the traditional real estate agents. It was private sale only and wasn't an advocate for the auction system. It was really tough to get in there and to be recruited you had to have three months' worth of training but a little tenacity saw me secure a role with Hayden Real Estate South Yarra in 2000. Working in an affluent area of Melbourne as a 21-year-old meant I was earning over $100,000 a year. I wish I was more responsible with money back then!
It was a fantastic time, I loved my job, I  built a growing network of friends and enjoyed financial freedom. After three successful years at Hayden I decided to discover Europe for twelve months. The plan was simple – travel throughout Europe, and secure a job in real estate. That actually happened! I landed a position with Foxtons, one of the UK's largest real estate companies.
However, the week I secured the job, Collingwood – after more than a decade- finally made the Grand Final. In true loyal supporter style, I shelved all my plans and jumped onto the next flight back to Melbourne! We all know what happened next…
I do regret coming back. I often wonder what course my life would have taken if I stayed on.
In my late 20's I undertook to gain my full real estate license and accepted managerial positions with reputable companies in the Inner West and Bayside.
Some of my 'famous' clients you ask? Not surprisingly quite a few footballers of past and present, The Block contestants of a previous couple of seasons I was involved in during my time with Ray White and a memorable experience with the lovely actress and singer Natalie Bassingthwaighte who we achieved a very successful outcome for.
By the time I was 30, there was no doubt in my mind that I would run my own office one day soon.  At around this time I met my partner Stella through the recommendation of my best mate Simon who with good reason sang her praises. Our relationship rapidly progressed and together we wholeheartedly worked on building our future and consequently entered our first foray into becoming business owners.
In 2008 our boutique agency Sinclair White was born. We created our very own unique brand from scratch and were based in Albert Park. Being from the West I had very few affiliations in Albert Park. It was challenging, as we were a newly established brand. We developed all our own marketing and were up against some very well credentialed agencies that were entrenched in this area for many, many years.
Not having enough contacts was one challenge, but the other was balancing the books. I was bringing in sufficient income and the turnover was reasonable. I learnt much about economics and making sure I had a good accountant and bookkeeper. What I didn't realise was that I was spending a lot of money on fitouts, at a time when internet/online services were kicking off and more efficient forms of communications with clients were being taken over by technology rather than in-house office visits.
I wish I had identified that then and didn't splurge on a beautiful office that we essentially didn't need when clients were increasingly doing their house hunting through the likes of realestate.com.au, etc.,
That was the biggest learning curve. People don't want to look at window displays anymore. You can operate anywhere. I should have seen where we were going, I could have saved much stress, time and money.
I sold Sinclair White in 2013. It was a challenging time for me as I had to go back to whatever job I could find and quickly. Our finances weren't great, I had a family of six to support including our young special needs son.
Stella had two sons from a previous marriage who were only seven and ten at the time when we met.  In the absence of their birth father, raising two instant sons didn't come without challenges. However, I feel proud that I could help support and guide them into their twenties today. We all pull together as a family and we make it work.
So here I was, trying to find my place, and far from happy. I seriously considered leaving real estate, to the point where I signed up for a Diploma in Financial Planning. I was exploring an internship with AMP and flew into Sydney for the start of a three-month internship. I was a week into it and realized there was too much compliance for what I was prepared to do for the earning capacity. When I realized this, I went up to the trainers.
"If you're really good at this, how much can you earn? I asked.
"$80,000" they replied.
I was on a flight out of Sydney the next day, and that was the end of my financial planning career.
I remember waking in a sweat one morning. It was 2am, and I was asking myself, "Where to from here?" I jumped on Seek, and saw several ads from the recruitment company, advertising a new company that was coming in from overseas. This company was going to revolutionize the Australian market. I wanted to learn more and kept reading and researching.
At 3am, I sent my resume straight to the UK, and I had a gut feeling that this was the change in real estate that I was looking for. It sounded different, and it would allow me to use my entrepreneurial skills in a way I didn't have in the past. It gave me the freedom to work from home, and very quickly things developed in the interview process. I was the first person hired for Purplebricks Australia in August 2016.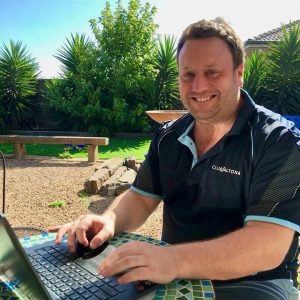 I had no idea what I was walking into, and I was taking the biggest leap of faith in my life. When I finished the induction process in Sydney, I came back to Melbourne and have never looked back. We've built a team, and have transactioned in excess of 200 properties throughout the West. We're building brand awareness, and we're changing lives.
Purplebricks have, within two years, sold over 4,000 properties nationally, and it's the second-most recognized brand in Australia. More importantly, we've saved Australian consumers in excess of $49 million.
We don't charge commissions and charge a fixed fee instead. You pay $4,400 for marketing, including a premier upgrade from realestate.com.au, and a $4,400 fee should you sell. The marketing includes all marketing and advertising you'd expect from a reputable agency.
One thing I've learnt is to work on credibility. The more results we get the more confidence we give consumers. This eventuates in more clients wanting to engage our services and make significant savings in commission fees.
In the next 12 months, I'm putting on another 12-15 licensed real estate agents, running under myself, and operating throughout the Western suburbs. We are expanding at a rapid rate.
I'm still really close to my parents and enjoy taking time out to go for walks with Dad on the beach. My free time is family time. I love hanging out with my excitable littlest ones who are 8 and 4 and who have me booked up with activities for every precious minute we share together! Outside of that you can find me enjoying a nice red at the Altona Bowling Club, if you see me please be sure to come past and say hi!