Residents of Maribyrnong, Recycling aficionados and owners of Far Fetched Designs
Rachael (left of picture):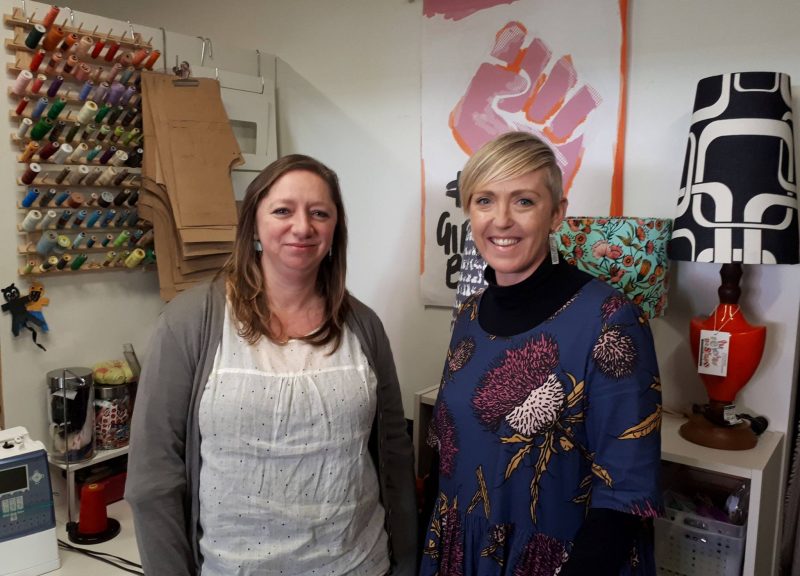 I live in Maribyrnong with my two boys, a bloke and two cats. I have lived there for nine years now, and prior to that was in West Footscray for ten years.
My Dad is Italian, and Mum is fourth generation Australian. I think there might be some convict blood in me! My Dad's family settled in Footscray after arriving from Italy in the 1950s, and my Mum grew up in Moonee Ponds. Once married, they moved to a new suburb at the time, East Keilor; where l grew up. I moved out in my late teens and rented a little before scrimping and saving to buy my first house in West Footscray when l was 25. It was the best thing l did. I was single, but I'd managed to get myself into the property market and while l moved to the Inner West originally because it was all l could afford, I now know it is definitely the best place to live!
I used to work for Penguin Books, and in my free time started making kids' clothes and accessories and selling them at markets on the weekends. It was my creative outlet. I had met Belinda a few times at markets, as market organisers used to put us side by side for some reason, even though we both sold kids clothing. Luckily, Belinda and l didn't see each other as competition and we hit it off and became friends.
After a while we decided we were sick of spending our winters in markets, dragging everything out and standing in the cold, wind and rain. We started discussing setting up a shop and getting other people involved, so we could collectively cover rent and have a place for all of us to sell our unique handmade goods. I was working at the time but got very, very lucky and was offered a redundancy package from Penguin Books – which seemed to be a sign, so we jumped right in and started Far Fetched Designs.
Prior to our current location, we did four pop-up shops. However, we soon got sick of packing them down and setting new shops up, so worked hard to find a permanent shop in the perfect location – and, long story short, we ended up in Seddon. We were very fortunate to secure the perfect space here.
Everything we sell is handmade or locally designed and 95% of our products are hand-made by locals. Most items in the shop are one-of-a-kind and our customers love this about us – if they purchase something like one of our lamps, they know they will never get another lamp like that anywhere else.
We work like a co-op. There are about 30 makers who pay a weekly rental fee, and then a small commission on sales, to cover other expenses such as bank fees, bags, power, water, insurance, staff etc. The business really only makes enough so we're paid for the days we work in the shop but we love it and it gives us a space to sell our handmade products as well. I love sewing; it's like meditation. I love the nights I get to stay back and sew for hours, putting my headphones on and listening to my podcasts. Making things for the shop is not work for me. I'm so lucky to be able to do what l love and make an income doing it.
Another change since going permanent is having the Handmaker's Factory, run by Nichola Prested, share our space. The studio is located on the mezzanine above the shop floor and every week Nichola runs adult creative workshops to people from near and far – adding to the handmade world we've created together.
I have my own label of kids' clothing, and other handmade things, called Orcwood. If you say it out aloud, it is a play on the word 'awkward'. Mostly I'm known for the Dino hoodie for kids, but I'm always expanding and now l create a lot more than that. Everything in the Orcwood range is sold in Far Fetched Designs.
As well as Far Fetched Designs, l also run the Melbourne Frock Swap Pre-Loved Fashion Market, with my sister Nicole, at Seaworks in Williamstown 4 times a year. Nicole and l are die-hard op-shoppers since our teens and are passionate about recycling and spreading the message about fashion not being disposable. Market days are a great girls day out, and it's great to see so many local women buying and selling their unwanted clothing and accessories.
I also help with the Seddon Village Traders Association. We're working to grow Seddon and feel very passionate about the area and what it has to offer. When we officially opened the shop in Seddon, we received the nicest welcome from the traders that we ever had anywhere else. The local business owners embraced us and many came on opening night and drank champagne with us. It's a lovely community and we're all here to help one another and work together to make Seddon Village a wonderful shopping precinct. We are so lucky to be in Seddon as it has a lovely small town village feel. I think Seddon is a little artier and grittier than the surrounding shopping precincts; Seddon certainly has a unique personality and a wonderful offering of unique stores and businesses.
Looking back at the days when I was in corporate, I kept thinking it was important to work my way up and climb the corporate ladder. I am so glad I don't feel that pressure anymore. I am so happy to be doing what I love and be able to balance that with my family and spending time with my kids. We are healthy, we are happy, and that is enough. I don't have any career aspirations other than to keep creating. I also really enjoy being my own boss. The more l put into my work the more l get out of it, and I'm great at self motivation – l work myself harder than any other boss ever has. I want this shop to keep going. I told Belinda "We need to be here when we are grandmothers." We had an option of a 12-year lease when we set up shop; and l hope we see out the whole 12 years at least – this obviously depends whether we can stay afloat!"
Belinda (right of picture)
Growing up in the northern suburbs, I spent most of my 20s travelling and met my Scottish husband while living in London. On returning to Melbourne and deciding this was where we'd stay, we started looking at buying a house. I had my heart set on a few properties in Yarraville but we kept missing out on them due to our budget, or the lack of it!
We were driving home one night from the Sun Theatre and saw this pocket called Seddon. I did a quick search and saw a few houses listed and eventually, we bought one. Back then, no one knew where Seddon was; I even had friends in our old hood in Kensington asking me where it was!
We have now lived in Kingsville for the last three years and before that spent about ten years in Seddon.
I am a crazy lifelong Bulldogs supporter, as are my entire family. When the Doggies were in the Grand Final last year, the entire shop was in Doggies colours, thanks to Rachael who is a non-football supporter! Unfortunately, I was busy travelling through Scotland, England and New York, but we managed to watch all of the finals including the Grand Final live on my IPad, no matter what time it was. I had waited 40 years for this to happen and I was overseas; I hope it doesn't take another 62 years!
In my past life, I was a textile and graphic designer. In 2007/8 after having my son I started my own kids label called Mr Moo and until 2014 I was juggling that, two little people and my day job – life was busy!
Rachael and I met while on the market trail and for some reason always seemed to have our stalls placed next to each other at all different events. Luckily we hit it off and also seemed to have very similar business ideas. We both agreed working the markets were zapping the life out of us. It actually got to the point of me waking up on a weekend thinking "Please, no more markets!" and that just wasn't what I wanted to be doing this for.
Rachael and I chatted about how we could keep Mr Moo and Orcwood going without markets and incorporate other people's brands as well.
At the time I had a young family, a 6 year old and a 21-month-old baby, and Rachael was hoping to finish up work soon but we just kept telling ourselves "Let's just do it!"
We decided it was now or never and planned to give a pop-up shop a go. We spent a few weeks looking for a retail space and found a lease on a shop in Yarraville, where CHALK currently is on Anderson Street.
I remember when I told my husband about the lease I had just signed, he turned to me and asked, 'Do you know this lady?' I said 'Sort of!' He responded with an 'Ok!' and that was it!
Both our fellas are very good guys and super supportive and I now know how invaluable that is.
Besides, Rachael and I didn't know each other too well when we started off then, but my son had fallen in love with a Dino hoodie from Orcwood and I couldn't say no!
While running the Yarraville pop-up from June to August 2014, Rachael and I got to know each other a lot better. We were a little wary of opening retail and thought eight weeks was long enough to start with. I remember picking up the keys with all intentions of opening the doors for trading four days later.
Unfortunately, the shop was an absolute mess. It was in the worst state of any of the shops we've had. We didn't sleep for four days, it was certainly a good way of getting to know someone while scraping chewing gum off the floor together. I learnt even though we had very similar business minds we were very different in that I am almost OCD-like, while Rachael is the 'doesn't matter, that will do' kind of lady.
We built a lot of momentum with the first shop, and the eight weeks flew by. We packed everything up from the shop and locked it away in Rachael's garage to only dig it all out again in mid-September 2014, when we set up another pop-up along Gamon Street, where Nicholas Scott Real Estate currently is.
In the first shop, we did so much for very little return. Even though it was very productive, sales-wise due to our business model we weren't even able to pay ourselves a wage. We worked 80 hours a week for very little return and we realised it wasn't sustainable and we needed to earn a living to be able to continue. So with a few tweaks to the business model we opened again for 14 weeks and had 48 makers on board.
After 14 weeks in Gamon Street, we were so overwhelmed by the response and decided to venture out of the Inner West and found a shop in Brunswick from April to August 2015. It was a 12-week stint there and sales were good. However, it made us realise we were most comfortable in the Inner West as that's what we know. Returning after 12 weeks, the Inner West had really taken off and we struggled to find our next location. We ended up along Birmingham Street in Yarraville, only a stone's throw from our first pop-up.
The shop wasn't finished – it had no lighting, only two power points and a massive, unsealed concrete floor. The ceiling wasn't plastered but it was all we could find and we needed a shop for Christmas. We secured the shop for another 12 weeks and opened right up until Christmas Eve. Just like the previous Christmas, we gave ourselves two days off, and then had the shop completely emptied by New Year's Eve.
After this, we were both burning out. We loved what we were doing but decided "If we can get a shop in Seddon or West Footscray, we will go permanent." They were our target areas, but it was a struggle as a couple of potential leases fell through.
When we secured our current premise, we were so excited but it was almost a shell. We worked out what we needed to do to make it viable, and drew up a plan. Our pop-up background gave us the experience to decide what is needed for storage and retail. It took us 12 weeks to build and fit out the shop, quite a turn around from the four days two years earlier.
We opened in Charles Street in June 2016 and I still pinch myself that this is what I get to do for a job! There are so many plus points to what we do but I love it when I meet a new maker. They are always excited to be putting their products into a new brick and mortar shop. From experience, this is an opportunity wholesale can rarely offer for small handmade businesses. They are really proud to be in a shop and we're really proud to help showcase their amazing products.
We're working hard to continue on this amazing journey and I'm so grateful that we did decide to just give it a go.