I was 21 when I met my husband Shane in London. He was on his working holiday visa, while I was born and bred in London. I remember our meeting clearly, as when I was 20 I lost my Dad to suicid and I met Shane not long after that. When his visa ran out, I got a working holiday visa and moved to Australia with him.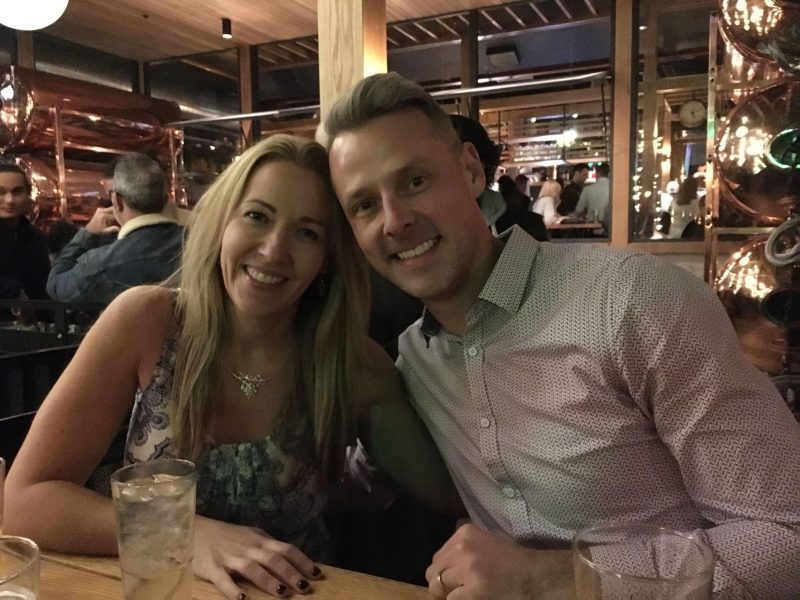 As Shane's from Brisbane, we lived there for a couple of years. I didn't like Brisbane much back then, and we moved back to London for a while, before deciding to move to Melbourne.
Why Melbourne? I knew a couple of friends who lived here, so we decided to give Melbourne a go. We rented in various places, including Richmond and Brunswick before deciding to buy. However, we could not afford to buy in the areas we were renting in.
In 2003, we got married. A lot of my family came from England for the wedding in Noosa, and we all just hung out there after the wedding. As a result, we never really had a honeymoon.
In 2004, we bought and built our first home in Point Cook, which lasted nine months. Shane came home one day and said he wanted to move, and I was relieved as I felt the same. We were not enjoying living in the suburbs as I was from London and together we had always lived near the city. I was working night shifts then, and got to drive to work, while Shane had to take public transport.
We rented the house out and started looking for a home nearer to the CBD. I looked at the map and saw Yarraville. Here's a suburb that's close to the city, but not expensive, unlike her cousins across the river. As neither of us were from Melbourne, we weren't raised to think negatively of the western suburbs. I remember walking down the streets here, thinking how awesome the place was.
We bought a two-bedroom house in Deakin Street. It was quite run down and needed a lot of work including restumping and rewiring. The highlight was the funky colours, including a yellow kitchen! We moved into Deakin Street in 2005, with every intention to settle down and start a family.
In 2006, while on holiday in Thailand, I found a lump on the side of my breast. I was washing myself in the shower, so found it easily even though it was a small lump.
Upon our return, I went to the doctor, who sent me for an ultrasound and a biopsy. I found out I had breast cancer, which began a whirlwind of cancer treatment including chemotherapy and radiotherapy. I was 29 at that time, and completely in shock. Looking back, if I had cancer now, it would be different. I was so young then, and it all just felt really inconvenient.
I hated feeling tired and losing my hair. As one of the chemo drugs gave me joint pain, I was taking a lot of codeine which invariably made me really sleepy.
So here I was, falling asleep on the couch and Shane took advantage of this, putting the 2006 Ashes series on television. Previously I hated cricket and would never let him put it on TV if I was there. Being English, I decided to make a conscious effort to get to know the rules and characters. By the end of the test series, I actually knew enough about cricket. I am now a big fan.
A funny story also happened when I was beginning chemotherapy. My oncologist asked me if I had any questions. In response to that, I asked if I could drink. That was my burning worry. The oncologist said to drink anything I liked now, as after chemotherapy I wouldn't like the taste.
I had grown up loving wine, but after chemotherapy I experienced really bad heartburn and wine tasted yucky. I made the switch to beer, as it didn't give me heartburn. Shane loves telling people that the summer I got cricket was the best summer ever as I now drink beer and watch cricket!.
As my treatment came to a conclusion in 2007, my oncologist knew I wanted children so advised me to wait two years, as my chance of a relapse was much higher in that time. Four weeks after I finished treatment, I found out I was pregnant. I guess we were a little careless.
This was a really great ending to a really horrible year, I had five embryos frozen, so I had it in my head that I would never be pregnant because of the damage. Mikayla was born at the end of 2007. Here I was with a baby, and I couldn't think about cancer anymore.
When Mikayla was about six months old, I thought about doing genetic testing. When I was diagnosed, every doctor I saw asked me if I had a family history. I started thinking if it was genetic. I did a bit of research and found out people who have Ashkenazi Jewish ancestry, which I have on my Dad's side have a really high prevalence of BRCA mutations.
I reached out to Peter MacCallum Cancer Centre for further testing, and found out I had a BRCA1 mutation, which is the same one made famous by actress Angelina Jolie in 2013.
Suddenly, it wasn't about me. It's about Mikayla as I was concerned if she had the same gene fault. Legally it has to be her choice to decide what she wants to do with it, and she cannot be tested until she's 18 years old. A lot of people wouldn't want to know. If Mikayla does the test, it would be a roll of the dice; a 50-50 chance. Unless she has a burning desire to know, I hope she would wait until she is at least 21 years old.
There are also lots of financial implications, as if you know you have the gene mutation; it's very hard to be covered by life insurance and income protection.
With the BRCA1 came a whole heap of decisions. My risk of getting breast cancer again was very high, and I had to decide if I was going to have a mastectomy. I thought about it for six months, before I found another lump. I had a biopsy done, and it was the most stressful two days of my life, waiting for the results. The lump was benign, but I didn't want to go through the same thing every six months. I decided that was it and took another six months to organise a double mastectomy.
Around this time, we had moved out of Deakin Street as the three of us were just outgrowing the home. We've been in our current house since 2009.
In 2010, I had the surgery. As I've had radiotherapy, I couldn't just put implants in. They ended up taking the lats muscles from my back, along with some implants into my breast.
The next thing to think about was my ovaries. There is a 60% chance of getting ovarian cancer with BRCA1. Problem is, unlike breast cancer, there is no screening. By the time you are diagnosed, it has usually spread, and the survival rate is very poor. It's a scary one, as I realised if I had my ovaries taken out, I could no longer have any more children.
Turning to the five embryos we had as backup it took us over a year to conceive. The first two didn't survive the thawing process, and the third one wasn't successful, which I found out on Christmas Eve. I remember saying to Shane 'What are we going to do?'
In January, I found out I was pregnant. It was unbelievable. Shane has always been a very positive person, but even he said to me 'I didn't want to say it to you, but I just thought it was never going to happen.' I feel like both of our kids are miracles. Jackson was born in October 2012.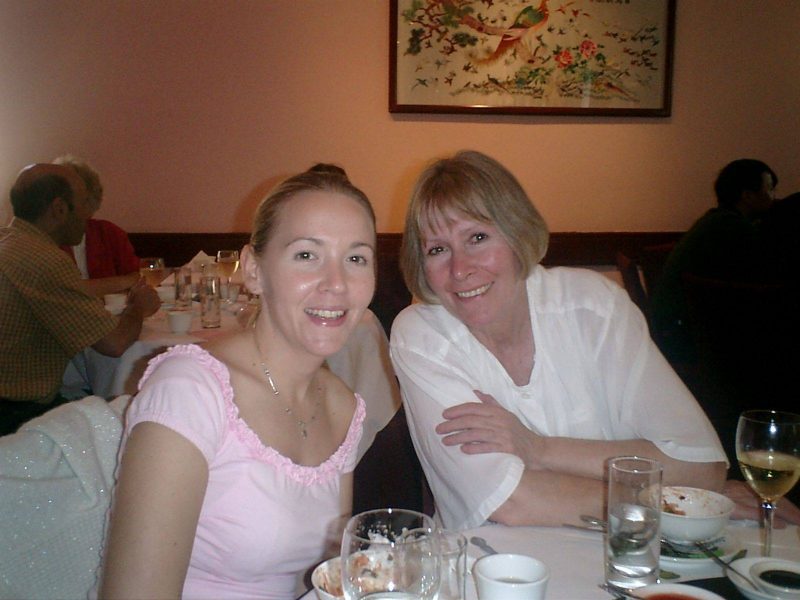 Just after my mastectomy surgery my, Mum had visited us from England to help me out. We didn't know it then, but Mum had found a lump on her neck, but she didn't tell me. She went home and found out she had lymphoma. While Mum was having chemotherapy, I went back home to London to spend some time with her.
In 2013, her cancer came back. I got a call from my sister one day, urgently wanting me home. Mum died 12 days after I got to London. I was there for five weeks. When I came back, I had been on the waiting list to have my fallopian tubes removed to reduce my risk of ovarian cancer and got a date for a few weeks later. I then had my ovaries taken out in 2015.
When Mikayla was just over two years old, I decided to see a personal trainer in Kensington to get fit. The owner of Fullfitment Personal Training && Nutrition, Alannagh Pooley got along with me and suggested in 2012 to do a fun run. I'd been involved with Pink Hope for a while by then, as it's targeted at women and families who have hereditary cancer. I've made so many friends through this charity.
In the first year, Run for Hope had 40 people, and in the second year, 80 people. In the second year, Cameron McDonald – then one of the councillors of Maribyrnong – stumbled across our little fun run and asked if we had council permission. I said 'no.'
Amazingly, Maribyrnong Council was involved for the next few years, providing funding for Run for Hope – Melbourne. Unfortunately, in 2017, funding was cut.
It doesn't matter, as our attendance continues to grow. This year, we had 285 people turn up and are currently at the $16,000 mark. I believe we are the only fun run where 100% of what you pay goes directly to charity.
Over the last two years, we have had help from so many people, but I just want to give a special shout out to Anthony Marchesani of Big Dog Events, who has selflessly contributed all the marquees and equipment with no desire for any monetary returns. He's a very generous man.
Run for Hope has always been about Pink Hope up until 2017, but that changed this year as Shane's best friend committed suicide in October 2017. He was such a big part of Run for Hope, flying down from NSW for every single one so, we decided to donate half of the proceeds to Beyond Blue.
We need to raise awareness that people can reach out and get help. We need to change the stigma around depression and suicide. We feel the money to Beyond Blue is a way to honour him, which is a good thing.
I work four days a week as a Senior Analyst at NAB, while Shane is in IT at Telstra. Mikayla and Jackson are both at Yarraville West Primary School.